C10026v5 Bachelor of Business
Award(s): Bachelor of Business (BBus)UAC code: 601030 (FT) (Autumn session, Spring session, Summer session, Spring session), 601035 (PT) (Autumn session, Spring session, Summer session, Spring session)CRICOS code: 006487A
Commonwealth supported place?: Yes
Load credit points: 144
Course EFTSL: 3
Location: City campus
Overview
Course aims
Career options
Innovation and Transdisciplinary program
Course intended learning outcomes
Admission requirements
Pathway course
Assumed knowledge
External articulation
Recognition of prior learning
Course duration and attendance
Course structure
Course completion requirements
Course diagram
Course program
Levels of award
Honours
Professional recognition
Other information
Overview
The Bachelor of Business offers students a sound background in all areas of business through eight common core subjects undertaken in first year. It also provides them with an opportunity to study one or more areas of interest via a major or an extended major undertaken from second year. The major provides them with in-depth knowledge in a business specialisation. Students could also undertake sub-majors or electives to complement this specialised knowledge.
The Bachelor of Business provides flexibility for students as they construct a learning journey tailored to their career aspirations. Students can choose from a range of course structures. Depending on their selected course structure, they can choose from a wide range of majors, sub-majors or electives which deepen expertise via business subjects, or add breadth via subjects from other faculties and schools.
Course aims
The degree seeks to provide students with the knowledge, competencies and values necessary to develop critical, analytical and evaluative skills essential for a fulfilling and effective career in business.
Career options
The Bachelor of Business is a broad professional degree, equipping graduates to pursue careers across all business fields, industries and sectors. Examples of career options include accountant, auditor, banker, business adviser, business analyst, business consultant, economist, entrepreneur, financial analyst, financial planner, human resources manager, project manager, marketing specialist, stockbroker.
Innovation and Transdisciplinary program
Transdisciplinarity and Innovation at UTS
All UTS students have the opportunity to develop distinctive capabilities around transdisciplinary thinking and innovation through the TD School. Transdisciplinary education at UTS brings together great minds from different disciplines to explore ideas that improve the way we live and work in the world. These offerings are unique to UTS and directly translate to many existing and emerging roles and careers.
Diploma in Innovation
The Diploma in Innovation (C20060) teaches innovation, supports personal transformation and provides the hard skills needed to support the inventors and inventions of the future. Students come out of the Diploma in Innovation, with the hard skills to create and support sectoral and societal transformation. Graduates are able to fluently integrate ideas, across professional disciplines and are inventors of the future.
All UTS undergraduate students (with the exception of students concurrently enrolled in the Bachelor of Creative Intelligence and Innovation) can apply for the Diploma in Innovation upon admission in their chosen undergraduate degree. It is a complete degree program that runs in parallel to any undergraduate degree. The course is offered on a three-year, part-time basis, with subjects running in 3-week long intensive blocks in July, December and February sessions. More information including a link to apply is available at https://dipinn.uts.edu.au.
Transdisciplinary electives program
Transdisciplinary electives broaden students' horizons and supercharge their problem-solving skills, helping them to learn outside, beyond and across their degrees. Students enrolled in an undergraduate course that includes electives can choose to take a transdisciplinary subject (with the exception of students concurrently enrolled in the Bachelor of Creative Intelligence and Innovation). More information about the TD Electives program is available here.
Course intended learning outcomes
| | |
| --- | --- |
| 1.1 | Apply evidence, creativity and critical reasoning to solve business problems |
| 2.1 | Communicate information clearly in a form appropriate for its audience |
| 2.2 | Demonstrate ability to work independently and with others as a member of a team to achieve an agreed goal |
| 3.1 | Make judgements and business decisions consistent with the principles of social responsibility, inclusion and knowledge of Indigenous peoples |
| 4.1 | Apply technical and professional skills to operate effectively in business |
Admission requirements
Applicants must have completed an Australian Year 12 qualification, Australian Qualifications Framework Diploma, or equivalent Australian or overseas qualification at the required level.
The English proficiency requirement for international students or local applicants with international qualifications is: Academic IELTS: 6.5 overall with a writing score of 6.0; or TOEFL: paper based: 550-583 overall with TWE of 4.5, internet based: 79-93 overall with a writing score of 21; or AE5: Pass; or PTE: 58-64 with a writing score of 50; or C1A/C2P: 176-184 with a writing score of 169.
Eligibility for admission does not guarantee offer of a place.
International students
Visa requirement: To obtain a student visa to study in Australia, international students must enrol full time and on campus. Australian student visa regulations also require international students studying on student visas to complete the course within the standard full-time duration. Students can extend their courses only in exceptional circumstances.
Pathway course
Applicants who complete the UTS College Diploma of Business meeting the admission requirements into the Bachelor of Business will receive 48 credit points of recognition of prior learning.
Assumed knowledge
Mathematics and any two units of English.
UTS offers a range of bridging courses for students who do not meet the assumed knowledge requirements.
External articulation
The Business School offers a range of external articulations with Vocational Education and Training and Higher Education institutions. Details of all arrangements are available via the credit recognition search tool.
Recognition of prior learning
Students who are enrolled in the Bachelor of Business and have previously studied at another university or other recognised tertiary educational institution may be eligible for recognition of prior learning if the subjects previously studied are deemed by Business to be equivalent to those specified for their course.
Students who have completed a course at a private college are not eligible for any exemptions unless an articulation agreement between Business and the college is in place. Details of all arrangements are available via the credit recognition search tool.
For more information about the application process, see How to Apply for Recognition of Prior Learning.
Course duration and attendance
The course can be completed in a minimum of three years of full-time or six years of part-time study.
The course may be completed through either a full-time or part-time attendance pattern, or a combination of these.
Full-time study is usually undertaken at the rate of 24 credit points a session. Students who wish to undertake more than the normal full-time load in one session must have their study plan endorsed by the UTS Business School.
Part-time study is usually undertaken at the rate of 12 credit points a session. Some subjects might be offered in the evening, however part-time students must be prepared to attend afternoon or morning classes.
Course structure
The course comprises a total of 144 credit points. The study components for course completion are:
48 credit points of core subjects and either standard or extended stream:
96 credit points of the standard stream, which includes:

a business major (48 credit points), and
48 credit points comprising of either:

a second major (48 credit points), or
two sub-majors (24 credit points each), or
a sub-major (24 credit points) in conjunction with elective subjects (24 credit points), or
elective subjects (48 credit points)

96 credit points of the extended stream, which includes:

an extended business major (72 credit points), and
24 credit points comprising of either:

a sub-major (24 credit points), or
elective subjects (24 credit points)
Students can choose any of the following as a first major: Accounting, Economics, Finance, Human Resource Management, International Business, Management, Marketing or Advertising and Marketing Communications.
The choice of second major includes those listed above as well as Business Law or Information Technology.
Electives (totalling 24 or 48 credit points) can be taken from any faculty in the university, with the approval of the owning Faculty. For more information on business electives, please see the Business Electives page.
Students have an option to undertake an internship program (26600 Business Internship) as an elective within the business major or as a free elective. Students should not enrol in the internship subject in the last session of study to ensure that completion of required hours of work does not impact graduation and/or international students' visa conditions.
Course completion requirements
Course diagram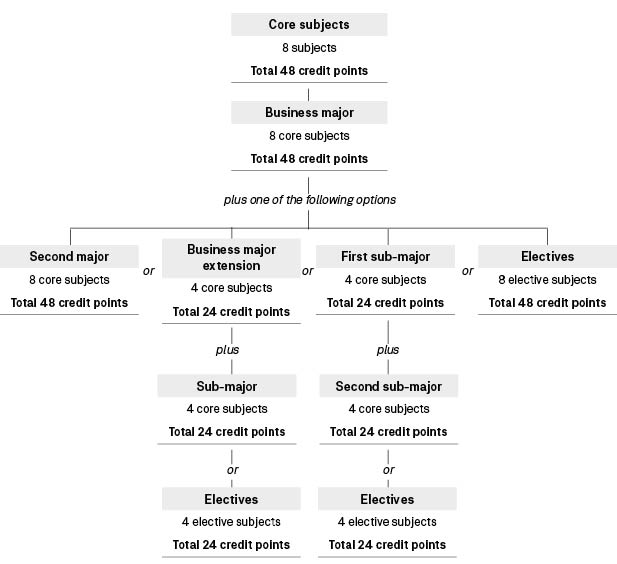 Course program
Typical full-time and part-time programs for Autumn and Spring commencements are provided below. Available majors and sub-majors are also listed. The study plans listed below are examples only. Each student's course program depends on the area of specialisation and the stream (major/extended major) they select.
Course programs for each individual major are available at study plan management.
Bachelor of Business core, Autumn commencing, full time
Year 1
Autumn session
22108 Accounting and Accountability
6cp
23115 Economics for Business
6cp
21212 People and Organisations
6cp
26134 Business Statistics
6cp
Spring session
24109 Marketing and Customer Value
6cp
25300 Fundamentals of Business Finance
6cp
22208 Accounting, Business and Society
6cp
21214 Business and Social Impact
6cp
Bachelor of Business core, Autumn commencing, part time
Year 1
Autumn session
22108 Accounting and Accountability
6cp
21212 People and Organisations
6cp
Spring session
23115 Economics for Business
6cp
26134 Business Statistics
6cp
Year 2
Autumn session
24109 Marketing and Customer Value
6cp
25300 Fundamentals of Business Finance
6cp
Spring session
22208 Accounting, Business and Society
6cp
21214 Business and Social Impact
6cp
List of majors
MAJ08437 Accounting
48cp
MAJ09401 Business Law
48cp
MAJ09209 Economics
48cp
MAJ08440 Finance
48cp
MAJ08446 Human Resource Management
48cp
MAJ02041 Information Technology
48cp
MAJ08442 International Business
48cp
MAJ08438 Management
48cp
MAJ08441 Marketing
48cp
MAJ08981 Advertising and Marketing Communications
48cp
List of sub-majors
SMJ08195 Accounting in Practice
24cp
SMJ08131 Advanced Advertising
24cp
SMJ08137 Advertising
24cp
SMJ10086 Business Analytics in Marketing
24cp
SMJ02036 Business Information Systems
24cp
SMJ08120 Business Innovation and Financial Management
24cp
SMJ09030 Business Law
24cp
SMJ01007 Mathematics
24cp
SMJ09058 Econometrics
24cp
SMJ09028 Economics
24cp
SMJ08203 Event Management
24cp
SMJ08123 Finance
24cp
SMJ08116 Financial Reporting
24cp
SMJ08215 Financial Services
24cp
SMJ08128 Human Resource Management
24cp
SMJ02037 Information Technology
24cp
SMJ08139 International Business Studies
24cp
SMJ08129 International Management
24cp
SMJ09034 International Studies
24cp
SMJ09035 Language other than English
24cp
SMJ08130 Management
24cp
SMJ08109 Management Consulting
24cp
SMJ08138 Marketing
24cp
SMJ01025 Quantitative Management
24cp
SMJ09036 Specialist Country Studies
24cp
SMJ08126 Sport Management
24cp
SMJ01009 Statistics
24cp
SMJ08204 Strategic Marketing
24cp
SMJ09033 Taxation Law
24cp
SMJ08219 Sustainable Enterprise
24cp
SMJ10159 Business Analytics
24cp
SMJ08223 Digital Creative Enterprise
24cp
List of extended majors
MAJ09402 Extended Economics
72cp
MAJ08060 Extended Finance
72cp
MAJ08046 Extended Management
72cp
MAJ08063 Extended Marketing
72cp
MAJ08993 Extended Accounting
72cp
Levels of award
The Bachelor of Business may be awarded with distinction, credit or pass.
Honours
The Bachelor of Business (Honours) (C09004) is available with an additional one year of full-time study for eligible students.
Professional recognition
To meet the educational membership requirements for entry into CPA Australia (CPAA), Chartered Accountants of Australia and New Zealand (CAANZ), Chartered Institute of Management Accountants (CIMA), Association of Chartered Certified Accountants (ACCA), and Institute of Public Accountants (IPA) students will need to complete the Accounting major and successfully complete subject 21644 Law and Ethics for Managers as either an elective or part of another major.
Students who complete the Human Resource Management major are eligible to apply for the professional member status and/or advancement to a higher level of membership of the Australian Human Resources Institute (AHRI).
UTS is recognised as an affiliated university under the CFA® (Charted Financial Analyst®) University Affiliation Program, based on the Bachelor of Business with Finance major. CFA Institute has affiliations with select universities around the world that have embedded a significant percentage (70 per cent) of the CFA® Program Candidate Body of Knowledge into their degree programs.
Other information
Further information is available from the UTS Student Centre on:
telephone 1300 ask UTS (1300 275 887)
or +61 2 9514 1222
Ask UTS
UTS Business School