C10347v4 Bachelor of Advanced Science
Award(s): Bachelor of Advanced Science in (name of Science major) (BAdvSc)UAC code: 607061 (Pharmaceutical Sciences) (Autumn session, Summer session), 607063 (Pre Medicine) (Autumn session, Spring session, Summer session)CRICOS code: 084270E
Commonwealth supported place?: Yes
Load credit points: 144
Course EFTSL: 3
Location: City campus
Overview
Career options
Innovation and Transdisciplinary program
Course intended learning outcomes
Admission requirements
Pathway course
Assumed knowledge
Course duration and attendance
Course structure
Course completion requirements
Course diagram
Course program
Other information
Overview
The Bachelor of Advanced Science is designed specifically to develop student learning using an inquiry-oriented and research-immersion model. Students engage in a number of research project subjects based on their chosen major, which include pharmaceutical sciences; and pre-medicine. Students are placed with world-leading research scientists and learn 'on the job', actively mentored in research teams learning theory through real-time application and solving real-world problems. More than just a work placement, this course is a holistic learning experience designed to train the next generation of scientists and health professionals.
Pre-Medicine major: This major is distinguished by its strong focus on practices and theory that underlie both medical research and the health professions. The aim is to optimally prepare graduates for health professional careers, including post-graduate medical degree.
Pharmaceutical Sciences major: Students learn practises and concepts that are critical for pharmaceutical science progressions. This major is also designed to facilitate an entry pathway to the Master of Pharmacy (C04252).
Career options
Career options vary according to the chosen major.
Pre-Medicine: The principle aim of the program is to prepare students for postgraduate medicine. However, the knowledge and learning is of equal value to future study for a number of health professions. This degree can give students the foundational knowledge to work in one of the many different health-related professions such as pharmacy, physiotherapy, and other primary contact primary care professions or related professions including health policy writing, health and medical writing, sales and technical support of medical devices, and the pharmaceutical and therapeutic goods industry.

Pharmaceutical Sciences: This prepares students for a range of careers in developing pharmaceuticals, drugs and cosmetics. Opportunities include potential employment in the pharmaceutical research, biotechnology, and health-related disciplines. It also prepares students for further studies in postgraduate pharmacy, medicine or other health related disciplines. This major has an entry pathway to the UTS Masters of Pharmacy (see note below for more information).
Innovation and Transdisciplinary program
Transdisciplinarity and Innovation at UTS
All UTS students have the opportunity to develop distinctive capabilities around transdisciplinary thinking and innovation through the TD School. Transdisciplinary education at UTS brings together great minds from different disciplines to explore ideas that improve the way we live and work in the world. These offerings are unique to UTS and directly translate to many existing and emerging roles and careers.
Diploma in Innovation
The Diploma in Innovation (C20060) teaches innovation, supports personal transformation and provides the hard skills needed to support the inventors and inventions of the future. Students come out of the Diploma in Innovation, with the hard skills to create and support sectoral and societal transformation. Graduates are able to fluently integrate ideas, across professional disciplines and are inventors of the future.
All UTS undergraduate students (with the exception of students concurrently enrolled in the Bachelor of Creative Intelligence and Innovation) can apply for the Diploma in Innovation upon admission in their chosen undergraduate degree. It is a complete degree program that runs in parallel to any undergraduate degree. The course is offered on a three-year, part-time basis, with subjects running in 3-week long intensive blocks in July, December and February sessions. More information including a link to apply is available at https://dipinn.uts.edu.au.
Transdisciplinary electives program
Transdisciplinary electives broaden students' horizons and supercharge their problem-solving skills, helping them to learn outside, beyond and across their degrees. In 2022, students enrolled in an undergraduate course that includes electives can choose to take a transdisciplinary subject (with the exception of students concurrently enrolled in the Bachelor of Creative Intelligence and Innovation). From 2023, all students enrolled in most undergraduate courses will complete a transdisciplinary subject as part of their course of study. More information about the TD Electives program is available here.
Course intended learning outcomes
| | |
| --- | --- |
| 1.1 | Apply: Demonstrate knowledge of science discipline relevant topics |
| 1.2 | Analyse: Explain the basic applications of scientific disciplinary knowledge within context |
| 1.3 | Synthesise: Integrate scientific disciplinary knowledge and principles and apply them to key processes |
| 2.1 | Apply: Investigate effective application of experimental design and sampling to design appropriate studies to test hypotheses |
| 2.2 | Analyse: Develop critical thinking skills including critiquing, interpreting and questioning scientific evidence |
| 2.3 | Synthesise: Apply the scientific method to investigate real world problems and evaluate experimental outcomes |
| 3.1 | Apply: Participate in team based data collection, recording and management, with an understanding of ethical limitations |
| 3.2 | Analyse: Use an appropriate range of techniques and mathematical and statistical approaches to investigate data and test hypotheses |
| 3.3 | Synthesise: Ethical application of a range of techniques and approaches to problem solving and decision-making within the context of the workplace. |
| 4.1 | Apply: Develop tools and aptitudes that create flexible and adaptive approaches to learning within a discipline context |
| 4.2 | Analyse: Source and reflect on multiple sources of information to develop innovative solutions to real world problems |
| 4.3 | Synthesise: Combine and utilise the breadth and interrelationship of disciplines in creative problem solving |
| 5.1 | Apply: Demonstrate interpersonal communication skills with peer and professional colleagues |
| 5.2 | Analyse: Identify and practice appropriate communication approaches using a variety of methods and media |
| 5.3 | Synthesise: Create effective communication protocols to convey appropriate scientific information to a range of audiences |
| 6.1 | Apply: Demonstrate an appreciation of historical and contemporary Aboriginal and Torres Strait Islander Knowledges relevant to science |
| 6.2 | Analyse: Develop cultural awareness for ethical and respectful practices, and when developing community relations. |
| 6.3 | Synthesise: Integrate Aboriginal and Torres Strait Islander Knowledges, as both experience and analysis, into professional practice. |
Admission requirements
Applicants must have completed an Australian Year 12 qualification, Australian Qualifications Framework Diploma, or equivalent Australian or overseas qualification at the required level.
The English proficiency requirement for international students or local applicants with international qualifications is: Academic IELTS: 6.5 overall with a writing score of 6.0; or TOEFL: paper based: 550-583 overall with TWE of 4.5, internet based: 79-93 overall with a writing score of 21; or AE5: Pass; or PTE: 58-64 with a writing score of 50; or C1A/C2P: 176-184 with a writing score of 169.
Eligibility for admission does not guarantee offer of a place.
International students
Visa requirement: To obtain a student visa to study in Australia, international students must enrol full time and on campus. Australian student visa regulations also require international students studying on student visas to complete the course within the standard full-time duration. Students can extend their courses only in exceptional circumstances.
Pathway course
Successful completion of the UTS College Diploma of Science guarantees entry into the course with 48 credit points of recognition of prior learning.
Assumed knowledge
Mathematics; any two units of English; any two units of Science.
Course duration and attendance
This course is offered on a three-year, full-time or six-year, part-time basis. Part-time students are required to attend some classes in daytime hours.
Course structure
Students must complete 144 credit points, made up of a 102-credit-point major selection, 24 credit points of electives and 18 credit points of core subjects. Majors are available in: pre-medicine and pharmaceutical sciences;
Industrial training/professional practice
Students studying this course have an opportunity to undertake an internship subject and receive academic credit for their placement off campus (an external business or research institute) or on campus (UTS research institutes or departments), in a capacity relevant to their academic studies.
Course completion requirements
| | | |
| --- | --- | --- |
| STM91299 Core subjects (Advanced Science) | | 48cp |
| CBK92137 Electives (Science UG) | | 24cp |
| CBK92140 Major choice | | 72cp |
| Total | | 144cp |
Course diagram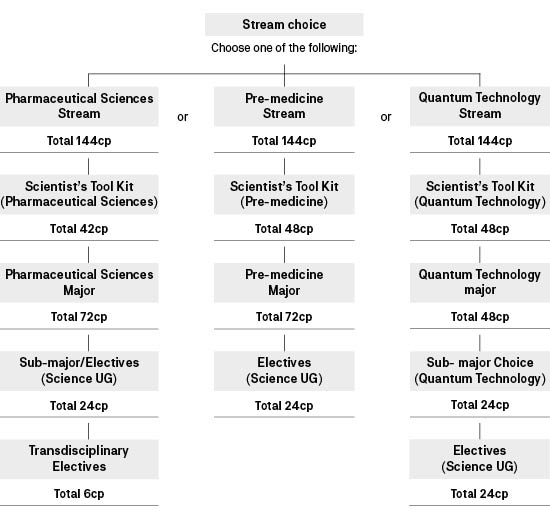 Course program
The following examples show typical full-time programs for each of the majors.
Pre-Medicine major, Autumn commencing
Year 1
Autumn session
65111 Chemistry 1
6cp
91161 Cell Biology and Genetics
6cp
33116 Design, Data, and Decisions
6cp
60006 Scientific Perspectives for Global Issues
6cp
Spring session
65212 Chemistry 2
6cp
91400 Human Anatomy and Physiology
6cp
91132 Molecular Biology
6cp
CBK92069 Transdisciplinary Electives (6cp subject choice)
6cp
Year 2
Autumn session
91320 Metabolic Biochemistry
6cp
91314 General Microbiology
6cp
91707 Pharmacology 1
6cp
CBK90579 Elective 1
6cp
Spring session
91239 Human Pathophysiology
6cp
91812 Human Anatomy 2
6cp
91401 Immunology
6cp
91148 Human Genetics and Precision Medicine
6cp
Year 3
Autumn session
91813 Human Anatomy 3
6cp
95735 Indigenous Health and Wellbeing
6cp
CBK90580 Elective 2
6cp
CBK90581 Elective 3
6cp
Spring session
91709 Pharmacology 2
6cp
91194 Evidence Based Practice in Medical Science
6cp
91180 Immunology and Human Health
6cp
Select 6 credit points from the following:
6cp
91195 Epidemiology and Pathogenesis of Infections
6cp
91705 Medical Devices and Diagnostics
6cp
Pre-Medicine major, Spring commencing
Year 1
Spring session
65111 Chemistry 1
6cp
60006 Scientific Perspectives for Global Issues
6cp
91400 Human Anatomy and Physiology
6cp
91161 Cell Biology and Genetics
6cp
Summer session
65212 Chemistry 2
6cp
Year 2
Autumn session
91314 General Microbiology
6cp
33116 Design, Data, and Decisions
6cp
91320 Metabolic Biochemistry
6cp
91707 Pharmacology 1
6cp
Spring session
91132 Molecular Biology
6cp
91148 Human Genetics and Precision Medicine
6cp
91239 Human Pathophysiology
6cp
91812 Human Anatomy 2
6cp
Summer session
91401 Immunology
6cp
Year 3
Autumn session
91813 Human Anatomy 3
6cp
95735 Indigenous Health and Wellbeing
6cp
CBK92069 Transdisciplinary Electives (6cp subject choice)
6cp
Spring session
91709 Pharmacology 2
6cp
91180 Immunology and Human Health
6cp
Select 6 credit points from the following:
6cp
91195 Epidemiology and Pathogenesis of Infections
6cp
91705 Medical Devices and Diagnostics
6cp
91194 Evidence Based Practice in Medical Science
6cp
Year 4
Autumn session
CBK90579 Elective 1
6cp
CBK90580 Elective 2
6cp
CBK90581 Elective 3
6cp
Pharmaceutical Sciences major, Autumn commencing
Year 1
Autumn session
65111 Chemistry 1
6cp
60006 Scientific Perspectives for Global Issues
6cp
91161 Cell Biology and Genetics
6cp
33116 Design, Data, and Decisions
6cp
Spring session
65212 Chemistry 2
6cp
91400 Human Anatomy and Physiology
6cp
91132 Molecular Biology
6cp
CBK92069 Transdisciplinary Electives (6cp subject choice)
6cp
Year 2
Autumn session
91314 General Microbiology
6cp
91320 Metabolic Biochemistry
6cp
91707 Pharmacology 1
6cp
65202 Organic Chemistry 1
6cp
Spring session
91239 Human Pathophysiology
6cp
91812 Human Anatomy 2
6cp
CBK90579 Elective 1
6cp
91401 Immunology
6cp
Year 3
Autumn session
91813 Human Anatomy 3
6cp
95735 Indigenous Health and Wellbeing
6cp
65001 Medicinal Chemistry
6cp
CBK90580 Elective 2
6cp
Spring session
91709 Pharmacology 2
6cp
91180 Immunology and Human Health
6cp
Select 6 credit points of electives
6cp
CBK90581 Elective 3
6cp
Other information
Further information is available from:
UTS Student Centre
telephone 1300 ask UTS (1300 275 887)
or +61 2 9514 1222
Ask UTS