C10347v6 Bachelor of Advanced Science
Award(s): Bachelor of Advanced Science in (name of Science major) (BAdvSc)UAC code: 607061 (Pharmaceutical Sciences) (Autumn session, Spring session, Spring session), 607063 (Pre-Medicine) (Autumn session, Spring session, Spring session), 607064 (Quantum Technology) (Autumn session, Spring session, Spring session)CRICOS code: 084270E
Commonwealth supported place?: Yes
Load credit points: 144
Course EFTSL: 3
Location: City campus
Overview
Course aims
Career options
Innovation and Transdisciplinary program
Course intended learning outcomes
Admission requirements
Pathway course
Assumed knowledge
Course duration and attendance
Course structure
Course completion requirements
Course diagram
Course program
Other information
Overview
The Bachelor of Advanced Science is no ordinary science degree. Designed for high achievers, it equips students with expertise in one of three disciplines at the forefront of contemporary scientific endeavour. Whether they're working towards careers in medicine, or they want to learn at the cutting edge of pharmaceutical or quantum sciences, students emerge ready to respond to the complex challenges that are shaping their future profession.
Why UTS Science?
UTS Science, one of Australia's leading university science faculties, is committed to scientific advancement that creates a more sustainable world. When students study with UTS, they join a university that delivers global impact in STEM education and research and a faculty that produces scientists with the power to transform the profession.
Course features
Students can choose from the following three majors:
Pre-medicine: Students can build expertise in anatomy, physiology and biochemistry in preparation for postgraduate medicine or a diversity of health care career choices. Curriculum combines research-informed theoretical learning with hands-on study in areas like pharmacology and genetics, and students work with high-quality specimens in our world-class Surgical and Anatomical Science Facility. An Indigenous health subject prepares students to work with and for Australia's First Nations people, while a third-year capstone project helps them build highly effective science communication skills.
Pharmaceutical Sciences: This major combines a range of medical science subjects with extended learning in chemistry and pharmacology. Students gain a broad understanding of the human body and the impacts of drugs on bodily systems via subjects in anatomy and physiology, building the skills and confidence to work in clinical and medical science environments. An Indigenous health subject prepares them to work with and for Australia's First Nations people, while a third-year capstone project helps them build highly effective science communication skills.

By the end of their studies, students are ready for postgraduate pharmacy or for a wealth of career opportunities across the pharmaceutical sector.

Quantum Technology: This major puts students at the cutting edge of this critical scientific discipline. As part of a carefully chosen cohort, they benefit from highly personalised learning opportunities that offer plenty of face time with both research and teaching staff. They also gain hands-on experience with quantum devices and optical systems and can add breadth to their skill sets by taking a sub-major in Quantum Computing and Communications, or Engineering. What's more, with access to professional placements and cross-faculty electives, students can tailor their studies to suit their future goals.
Course aims
Professional experiences are part of the degree
Pre-medicine and Pharmaceutical Science students can connect with professional placements in UTS labs and with external health care partners via the rapidly expanding Professional Experience Program*. Quantum Technology students benefit from a dedicated internship scheme that helps them build connections and gain hands-on experience at leading local quantum technology companies and start-ups.
*Please note: this is an elective subject. Students must complete a competitive application process in order to secure a professional placement.
Career options
Pre-medicine: Graduates emerge ready to kickstart a wide range of health and health-aligned careers in communication, policy, medical device sales and technical support, and in the pharmaceutical and therapeutic goods industry. They can also pursue postgraduate study in pharmacy, physiotherapy and other primary care professions.
Pharmaceutical Sciences: The name of this major says it all: graduates emerge ready to pursue a wealth of career options in the booming pharmaceutical sector. They can develop or formulate pharmaceuticals, cosmetics and other products; become pharmaceutical researchers or biotechnologists; work in sales or marketing of pharmaceutical products; or apply their expertise to a range of regulatory, quality assurance or quality control roles. This degree is also an entry pathway to the UTS Master of Pharmacy.
Quantum Technology: This rapidly growing field is producing a suite of new roles at quantum technology companies and start-ups. Graduates are in high demand as quantum algorithm developers, coders, cryptographers, information engineers, cybersecurity or software developers, experimental research scientists, machine learning specialists, nanofabrication or semiconductor scientists/engineers, opto-mechanical researchers or ultra-cold atom scientists.
Innovation and Transdisciplinary program
Transdisciplinarity and Innovation at UTS
All UTS students have the opportunity to develop distinctive capabilities around transdisciplinary thinking and innovation through the TD School. Transdisciplinary education at UTS brings together great minds from different disciplines to explore ideas that improve the way we live and work in the world. These offerings are unique to UTS and directly translate to many existing and emerging roles and careers.
Diploma in Innovation
The Diploma in Innovation (C20060) teaches innovation, supports personal transformation and provides the hard skills needed to support the inventors and inventions of the future. Students come out of the Diploma in Innovation, with the hard skills to create and support sectoral and societal transformation. Graduates are able to fluently integrate ideas, across professional disciplines and are inventors of the future.
All UTS undergraduate students (with the exception of students concurrently enrolled in the Bachelor of Creative Intelligence and Innovation) can apply for the Diploma in Innovation upon admission in their chosen undergraduate degree. It is a complete degree program that runs in parallel to any undergraduate degree. The course is offered on a three-year, part-time basis, with subjects running in 3-week long intensive blocks in July, December and February sessions. More information including a link to apply is available at https://dipinn.uts.edu.au.
Transdisciplinary electives program
Transdisciplinary electives broaden students' horizons and supercharge their problem-solving skills, helping them to learn outside, beyond and across their degrees. Students enrolled in an undergraduate course that includes electives can choose to take a transdisciplinary subject (with the exception of students concurrently enrolled in the Bachelor of Creative Intelligence and Innovation). More information about the TD Electives program is available here.
Course intended learning outcomes
| | |
| --- | --- |
| 1.1 | Explain how the applications of scientific disciplinary knowledge can be integrated as advances relevant to different scientific topics. |
| 2.1 | Design scientific experiments to collect, accurately record data that can be critically analysed and applied to real-world scientific questions. |
| 3.1 | Evaluate ethical constraints and limitations of data collection and analysis whilst using appropriate scientific approaches to solve global problems and engage in decision making. |
| 4.1 | Reflect upon, independently evaluate, and critically appraise current sources of information from various disciplines to develop innovative solutions to real world problems. |
| 5.1 | Effectively communicate scientific knowledge to a range of audiences while using a variety of appropriate methods and media. |
| 6.1 | Develop knowledge of Indigenous Australian contexts to inform professional cultural capabilities to work effectively with and for, Indigenous Australians within Scientific contexts. |
Admission requirements
Applicants must have completed an Australian Year 12 qualification, Australian Qualifications Framework Diploma, or equivalent Australian or overseas qualification at the required level.
The English proficiency requirement for international students or local applicants with international qualifications is: Academic IELTS: 6.5 overall with a writing score of 6.0; or TOEFL: paper based: 550-583 overall with TWE of 4.5, internet based: 79-93 overall with a writing score of 21; or AE5: Pass; or PTE: 58-64 with a writing score of 50; or C1A/C2P: 176-184 with a writing score of 169.
Eligibility for admission does not guarantee offer of a place.
International students
Visa requirement: To obtain a student visa to study in Australia, international students must enrol full time and on campus. Australian student visa regulations also require international students studying on student visas to complete the course within the standard full-time duration. Students can extend their courses only in exceptional circumstances.
Pathway course
Successful completion of the UTS College Diploma of Science guarantees entry into the course with 48 credit points of recognition of prior learning.
Assumed knowledge
Mathematics; any two units of English; any two units of Science.
Course duration and attendance
This course is offered on a three-year, full-time or six-year, part-time basis. Part-time students are required to attend some classes in daytime hours.
Course structure
Students must complete 144 credit points, made up of a 48-72 credit point major selection, 24 credit points of sub-major or electives and 42-48 credit points of first year core subjects. Majors are available in: pre-medicine, pharmaceutical sciences or quantum technology.
Industrial training/professional practice
Students studying this course have an opportunity to undertake an internship subject and receive academic credit for their placement off campus (an external business or research institute) or on campus (UTS research institutes or departments), in a capacity relevant to their academic studies.
Course completion requirements
| | | |
| --- | --- | --- |
| CBK92307 Stream choice (Advanced Science) | | 144cp |
| Total | | 144cp |
Course diagram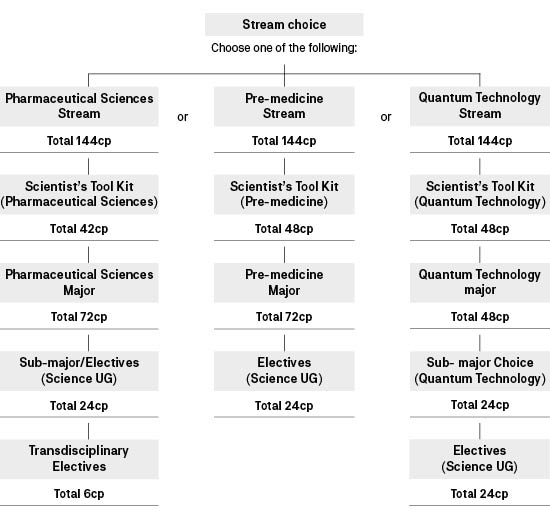 Course program
The following examples show typical full-time programs for each of the majors.
Pre-Medicine major, Autumn commencing
Year 1
Autumn session
65111 Chemistry 1
6cp
91161 Cell Biology and Genetics
6cp
33116 Design, Data, and Decisions
6cp
60006 Scientific Perspectives for Global Issues
6cp
Spring session
65212 Chemistry 2
6cp
91400 Human Anatomy and Physiology
6cp
91132 Molecular Biology
6cp
Select 6 credit points from the following:
6cp
CBK92300 Electives (Science UG)
24cp
Year 2
Autumn session
91320 Metabolic Biochemistry
6cp
91314 General Microbiology
6cp
91707 Fundamentals of Pharmacology
6cp
CBK92069 Transdisciplinary Electives
6cp
Spring session
91830 Human Pathophysiology
6cp
91838 Structural Anatomy and Neuroanatomy
6cp
91401 Immunology
6cp
91822 Human Genetics and Precision Medicine
6cp
Year 3
Autumn session
91839 Visceral Anatomy
6cp
95735 Indigenous Health and Wellbeing
6cp
Select 12 credit points from the following:
12cp
CBK92300 Electives (Science UG)
24cp
Spring session
91709 Advanced Pharmacology
6cp
91828 Evidence Based Practice in Medical Science
6cp
91180 Immunology and Human Health
6cp
Select 6 credit points from the following:
6cp
91195 Epidemiology and Pathogenesis of Infections
6cp
91705 Medical Devices and Diagnostics
6cp
Pre-Medicine major, Spring commencing
Year 1
Spring session
65111 Chemistry 1
6cp
60006 Scientific Perspectives for Global Issues
6cp
91400 Human Anatomy and Physiology
6cp
91161 Cell Biology and Genetics
6cp
Year 2
January Session
65212 Chemistry 2
6cp
Autumn session
91314 General Microbiology
6cp
33116 Design, Data, and Decisions
6cp
91320 Metabolic Biochemistry
6cp
91707 Fundamentals of Pharmacology
6cp
Spring session
91132 Molecular Biology
6cp
91822 Human Genetics and Precision Medicine
6cp
91830 Human Pathophysiology
6cp
91838 Structural Anatomy and Neuroanatomy
6cp
Year 3
January Session
91401 Immunology
6cp
Autumn session
91839 Visceral Anatomy
6cp
95735 Indigenous Health and Wellbeing
6cp
CBK92069 Transdisciplinary Electives
6cp
Spring session
91709 Advanced Pharmacology
6cp
91180 Immunology and Human Health
6cp
Select 6 credit points from the following:
6cp
91195 Epidemiology and Pathogenesis of Infections
6cp
91705 Medical Devices and Diagnostics
6cp
91828 Evidence Based Practice in Medical Science
6cp
Year 4
Autumn session
Select 18 credit points from the following:
18cp
CBK92300 Electives (Science UG)
24cp
Pharmaceutical Sciences major & General Elective, Autumn commencing
Year 1
Autumn session
65111 Chemistry 1
6cp
60006 Scientific Perspectives for Global Issues
6cp
91161 Cell Biology and Genetics
6cp
33116 Design, Data, and Decisions
6cp
Spring session
65212 Chemistry 2
6cp
91400 Human Anatomy and Physiology
6cp
91132 Molecular Biology
6cp
68492 Principles of Pharmaceutical Science
6cp
Year 2
Autumn session
CBK92069 Transdisciplinary Electives
6cp
91320 Metabolic Biochemistry
6cp
91707 Fundamentals of Pharmacology
6cp
65202 Organic Chemistry 1
6cp
Spring session
91830 Human Pathophysiology
6cp
68494 Cosmetics and Nutraceuticals
6cp
91709 Advanced Pharmacology
6cp
91401 Immunology
6cp
Year 3
Autumn session
95735 Indigenous Health and Wellbeing
6cp
65001 Medicinal Chemistry
6cp
Select 12 credit points from the following:
12cp
CBK90232 Electives (Science UG)
24cp
Spring session
68493 Advanced Pharmaceutical Science
6cp
91180 Immunology and Human Health
6cp
Select 12 credit points from the following:
12cp
CBK90232 Electives (Science UG)
24cp
Quantum Technology major, Quantum Computing and Communications sub, Autumn commencing
Year 1
Autumn session
33130 Mathematics 1
6cp
68101 Physics 1
6cp
60006 Scientific Perspectives for Global Issues
6cp
Select 6 credit points from the following:
6cp
60101 Chemistry and Materials Science
6cp
65111 Chemistry 1
6cp
Spring session
33230 Mathematics 2
6cp
68201 Physics 2
6cp
65212 Chemistry 2
6cp
41039 Programming 1
6cp
Year 2
Autumn session
68414 Advanced Mechanics
6cp
68316 Electronics for Quantum Technologies
6cp
CBK92069 Transdisciplinary Electives
6cp
43025 Introduction to Quantum Computing
6cp
Spring session
68206 Optics
6cp
68413 Quantum Physics
6cp
37336 Vector Calculus and Partial Differential Equations
6cp
Select 6 credit points from the following:
6cp
48080 Introduction to Innovation
6cp
37242 Introduction to Optimisation
6cp
41173 Quantum Software and Programming
6cp
35391 Seminar (Mathematics)
6cp
Year 3
Autumn session
37233 Linear Algebra
6cp
Select 18 credit points from the following:
18cp
CBK92300 Electives (Science UG)
24cp
Spring session
68606 Solid-state Science and Quantum Devices
6cp
68746 Advanced Quantum Science
6cp
68513 Nanoscale and Quantum Photonics
6cp
41076 Methods in Quantum Computing
6cp
Quantum Technology major, Quantum Computing and Communications sub, Spring commencing
Year 1
Spring session
33130 Mathematics 1
6cp
68101 Physics 1
6cp
60006 Scientific Perspectives for Global Issues
6cp
Select 6 credit points from the following:
6cp
60101 Chemistry and Materials Science
6cp
65111 Chemistry 1
6cp
Summer session
68201 Physics 2
6cp
Year 2
Autumn session
33230 Mathematics 2
6cp
41039 Programming 1
6cp
CBK92069 Transdisciplinary Electives
6cp
Spring session
65212 Chemistry 2
6cp
68206 Optics
6cp
68413 Quantum Physics
6cp
37336 Vector Calculus and Partial Differential Equations
6cp
Year 3
Autumn session
37233 Linear Algebra
6cp
68316 Electronics for Quantum Technologies
6cp
43025 Introduction to Quantum Computing
6cp
Select 6 credit points from the following:
6cp
CBK92300 Electives (Science UG)
24cp
Spring session
41076 Methods in Quantum Computing
6cp
68606 Solid-state Science and Quantum Devices
6cp
68746 Advanced Quantum Science
6cp
68513 Nanoscale and Quantum Photonics
6cp
Year 4
Autumn session
68414 Advanced Mechanics
6cp
Select 6 credit points from the following:
6cp
41302 Additive Manufacturing 1
6cp
37335 Differential Equations
6cp
37181 Discrete Mathematics
6cp
41174 Quantum Algorithms
6cp
37252 Regression and Linear Models
6cp
35391 Seminar (Mathematics)
6cp
Select 12 credit points from the following:
12cp
CBK92300 Electives (Science UG)
24cp
Quantum Technology major, Engineering sub-major, Autumn commencing
Year 1
Autumn session
33130 Mathematics 1
6cp
68101 Physics 1
6cp
60006 Scientific Perspectives for Global Issues
6cp
Select 6 credit points from the following:
6cp
60101 Chemistry and Materials Science
6cp
65111 Chemistry 1
6cp
Spring session
33230 Mathematics 2
6cp
68201 Physics 2
6cp
65212 Chemistry 2
6cp
41039 Programming 1
6cp
Year 2
Autumn session
68414 Advanced Mechanics
6cp
68316 Electronics for Quantum Technologies
6cp
CBK92069 Transdisciplinary Electives
6cp
Select 6 credit points from the following:
6cp
SMJ10186 Engineering sub-major (UG Science)
24cp
Spring session
68206 Optics
6cp
68413 Quantum Physics
6cp
37336 Vector Calculus and Partial Differential Equations
6cp
Select 6 credit points from the following:
6cp
SMJ10186 Engineering sub-major (UG Science)
24cp
Year 3
Autumn session
Select 6 credit points from the following:
6cp
SMJ10186 Engineering sub-major (UG Science)
24cp
Select 18 credit points from the following:
18cp
CBK92300 Electives (Science UG)
24cp
Spring session
68606 Solid-state Science and Quantum Devices
6cp
68746 Advanced Quantum Science
6cp
68513 Nanoscale and Quantum Photonics
6cp
Select 6 credit points from the following:
6cp
SMJ10186 Engineering sub-major (UG Science)
24cp
Quantum Technology major, Engineering sub-major, Spring commencing
Year 1
Spring session
33130 Mathematics 1
6cp
68101 Physics 1
6cp
60006 Scientific Perspectives for Global Issues
6cp
Select 6 credit points from the following:
6cp
60101 Chemistry and Materials Science
6cp
65111 Chemistry 1
6cp
Summer session
68201 Physics 2
6cp
Year 2
Autumn session
33230 Mathematics 2
6cp
41039 Programming 1
6cp
Select 6 credit points from the following:
6cp
SMJ10186 Engineering sub-major (UG Science)
24cp
Spring session
65212 Chemistry 2
6cp
68206 Optics
6cp
68413 Quantum Physics
6cp
37336 Vector Calculus and Partial Differential Equations
6cp
Year 3
Autumn session
68414 Advanced Mechanics
6cp
68316 Electronics for Quantum Technologies
6cp
CBK92069 Transdisciplinary Electives
6cp
Select 6 credit points from the following:
6cp
SMJ10186 Engineering sub-major (UG Science)
24cp
Spring session
68606 Solid-state Science and Quantum Devices
6cp
68746 Advanced Quantum Science
6cp
68513 Nanoscale and Quantum Photonics
6cp
Select 6 credit points from the following:
6cp
SMJ10186 Engineering sub-major (UG Science)
24cp
Year 4
Autumn session
Select 6 credit points from the following:
6cp
SMJ10186 Engineering sub-major (UG Science)
24cp
Select 18 credit points from the following:
18cp
CBK92300 Electives (Science UG)
24cp
Pharmaceutical Sciences major & General Elective, Spring commencing, full time
Year 1
Spring session
60006 Scientific Perspectives for Global Issues
6cp
65111 Chemistry 1
6cp
91161 Cell Biology and Genetics
6cp
91400 Human Anatomy and Physiology
6cp
Year 2
January Session
65212 Chemistry 2
6cp
Autumn session
33116 Design, Data, and Decisions
6cp
65202 Organic Chemistry 1
6cp
91707 Fundamentals of Pharmacology
6cp
91320 Metabolic Biochemistry
6cp
Spring session
91132 Molecular Biology
6cp
91830 Human Pathophysiology
6cp
68492 Principles of Pharmaceutical Science
6cp
91401 Immunology
6cp
Year 3
Autumn session
95735 Indigenous Health and Wellbeing
6cp
65001 Medicinal Chemistry
6cp
CBK92069 Transdisciplinary Electives
6cp
Spring session
91180 Immunology and Human Health
6cp
91709 Advanced Pharmacology
6cp
68494 Cosmetics and Nutraceuticals
6cp
68493 Advanced Pharmaceutical Science
6cp
Year 4
Autumn session
CBK90232 Electives (Science UG)
24cp
Pharmaceutical Sciences major & Chemistry Sub-Major, Autumn commencing, full time
Year 1
Autumn session
65111 Chemistry 1
6cp
91161 Cell Biology and Genetics
6cp
33116 Design, Data, and Decisions
6cp
60006 Scientific Perspectives for Global Issues
6cp
Spring session
65212 Chemistry 2
6cp
91400 Human Anatomy and Physiology
6cp
91132 Molecular Biology
6cp
68492 Principles of Pharmaceutical Science
6cp
Year 2
Autumn session
91320 Metabolic Biochemistry
6cp
65202 Organic Chemistry 1
6cp
91707 Fundamentals of Pharmacology
6cp
65306 Analytical Chemistry 1
6cp
Spring session
91830 Human Pathophysiology
6cp
68494 Cosmetics and Nutraceuticals
6cp
91401 Immunology
6cp
65409 Analytical Chemistry 2
6cp
Year 3
Autumn session
95735 Indigenous Health and Wellbeing
6cp
65001 Medicinal Chemistry
6cp
65545 Forensic Toxicology
6cp
CBK92069 Transdisciplinary Electives
6cp
Spring session
65508 Organic Chemistry 2
6cp
91709 Advanced Pharmacology
6cp
68493 Advanced Pharmaceutical Science
6cp
91180 Immunology and Human Health
6cp
Pharmaceutical Sciences major & Biology Sub-Major, Autumn commencing, full time
Year 1
Autumn session
65111 Chemistry 1
6cp
91161 Cell Biology and Genetics
6cp
33116 Design, Data, and Decisions
6cp
60006 Scientific Perspectives for Global Issues
6cp
Spring session
65212 Chemistry 2
6cp
91400 Human Anatomy and Physiology
6cp
91132 Molecular Biology
6cp
68492 Principles of Pharmaceutical Science
6cp
Year 2
Autumn session
91320 Metabolic Biochemistry
6cp
65202 Organic Chemistry 1
6cp
91707 Fundamentals of Pharmacology
6cp
91314 General Microbiology
6cp
Spring session
91830 Human Pathophysiology
6cp
68494 Cosmetics and Nutraceuticals
6cp
91401 Immunology
6cp
91838 Structural Anatomy and Neuroanatomy
6cp
Year 3
Autumn session
95735 Indigenous Health and Wellbeing
6cp
65001 Medicinal Chemistry
6cp
91839 Visceral Anatomy
6cp
CBK92069 Transdisciplinary Electives
6cp
Spring session
91828 Evidence Based Practice in Medical Science
6cp
91709 Advanced Pharmacology
6cp
68493 Advanced Pharmaceutical Science
6cp
91180 Immunology and Human Health
6cp
Other information
Further information is available from:
UTS Student Centre
telephone 1300 ask UTS (1300 275 887)
or +61 2 9514 1222
Ask UTS