C10347v3 Bachelor of Advanced Science
Award(s): Bachelor of Advanced Science in (name of Science major) (BAdvSc)UAC code: 607058 (Advanced Materials) (Autumn session), 607059 (Environmental Biotechnology) (Autumn session), 607060 (Infection & Immunity) (Autumn session), 607061 (Pharmaceutical Sciences) (Autumn session), 607063 (Pre Medicine) (Autumn session, Spring session)CRICOS code: 084270E
Commonwealth supported place?: Yes
Load credit points: 144
Course EFTSL: 3
Location: City campus
Overview
Career options
Course intended learning outcomes
Admission requirements
Pathway course
Assumed knowledge
Course duration and attendance
Course structure
Course completion requirements
Course diagram
Course program
Other information
Overview
The Bachelor of Advanced Science is designed specifically to develop student learning using an inquiry-oriented and research-immersion model. Students engage in a number of research project subjects based on their chosen major, which include environmental biotechnology; pharmaceutical sciences; and pre-medicine. Students are placed with world-leading research scientists and learn 'on the job', actively mentored in research teams learning theory through real-time application and solving real-world problems. More than just a work placement, this course is a holistic learning experience designed to train the next generation of scientists.
Environmental Biotechnology major: This major combines biology and engineering, in order to manage microbes that impact upon the environments that we depend upon (including bioremediation, mine waste management), as well as using microbes to solve problems that can lead to commercial end products, such as biofuels, pharmaceuticals, nutraceuticals, or agricultural feedstocks. The diversity of microbes with novel traits is immense: a new style of scientist with a specialist background is needed to not only bioprospect these habitats and identify which microbes can be used to solve environmental challenges, but also to solve increasingly complex issues in a sustainable way. This involves thinking of the biological possibilities, the commercial feasibility, and the engineering requirements necessary to solve an issue. This requires a broad set of skills, and increasingly, cross-disciplinary thinking. Students develop advanced skills in bioinformatics, microbial ecology, as well as the fundamental sciences to prepare them for an exciting career in the ever expanding field of biotechnology, having a specific focus on environmental applications and solutions to the changing globe.
Pre-Medicine major: This major is distinguished by its strong focus on core topics where in the second and third years of study have a stronger coursework focus. Students are introduced to practices and theory that underlie both medical research and the health professions. The aim is to optimally prepare graduates for health professional careers.
Pharmaceutical Sciences major: This major is distinguished by a focus on core relevant topics in the second and third years of study with a stronger coursework focus. Students learn practises and concepts that are critical for pharmaceutical science progressions. This major is also designed to facilitate an entry pathway to the Master of Pharmacy (C04252).
Career options
Career options vary according to the chosen major.
Environmental Biotechnology: Examples include positions in industrial biotechnology for the energy sector (e.g biofuel or biogas), agricultural sector (e.g. novel feedstocks), industrial sector (e.g. replacing chemical processes with biological ones), environmental consultancy and management (e.g. bioremediation), as well as novel products (e.g. sustainable sources for fabrics, or bioplastics).
Course intended learning outcomes
| | |
| --- | --- |
| 1.1 | Apply: Demonstrate knowledge of science discipline relevant topics |
| 1.2 | Analyse: Explain the basic applications of scientific disciplinary knowledge within context |
| 1.3 | Synthesise: Integrate scientific disciplinary knowledge and principles and apply them to key processes |
| 2.1 | Apply: Investigate effective application of experimental design and sampling to design appropriate studies to test hypotheses |
| 2.2 | Analyse: Develop critical thinking skills including critiquing, interpreting and questioning scientific evidence |
| 2.3 | Synthesise: Apply the scientific method to investigate real world problems and evaluate experimental outcomes |
| 3.1 | Apply: Participate in team based data collection, recording and management, with an understanding of ethical limitations |
| 3.2 | Analyse: Use an appropriate range of techniques and mathematical and statistical approaches to investigate data and test hypotheses |
| 3.3 | Synthesise: Ethical application of a range of techniques and approaches to problem solving and decision-making within the context of the workplace. |
| 4.1 | Apply: Develop tools and aptitudes that create flexible and adaptive approaches to learning within a discipline context |
| 4.2 | Analyse: Source and reflect on multiple sources of information to develop innovative solutions to real world problems |
| 4.3 | Synthesise: Combine and utilise the breadth and interrelationship of disciplines in creative problem solving |
| 5.1 | Apply: Demonstrate interpersonal communication skills with peer and professional colleagues |
| 5.2 | Analyse: Identify and practice appropriate communication approaches using a variety of methods and media |
| 5.3 | Synthesise: Create effective communication protocols to convey appropriate scientific information to a range of audiences |
| 6.1 | Apply: Demonstrate an appreciation of historical and contemporary Aboriginal and Torres Strait Islander Knowledges relevant to science |
| 6.2 | Analyse: Develop cultural awareness for ethical and respectful practices, and when developing community relations. |
| 6.3 | Synthesise: Integrate Aboriginal and Torres Strait Islander Knowledges, as both experience and analysis, into professional practice. |
Admission requirements
Applicants must have completed an Australian Year 12 qualification, Australian Qualifications Framework Diploma, or equivalent Australian or overseas qualification at the required level.
The English proficiency requirement for international students or local applicants with international qualifications is: Academic IELTS: 6.5 overall with a writing score of 6.0; or TOEFL: paper based: 550-583 overall with TWE of 4.5, internet based: 79-93 overall with a writing score of 21; or AE5: Pass; or PTE: 58-64; or CAE: 176-184.
Eligibility for admission does not guarantee offer of a place.
International students
Visa requirement: To obtain a student visa to study in Australia, international students must enrol full time and on campus. Australian student visa regulations also require international students studying on student visas to complete the course within the standard full-time duration. Students can extend their courses only in exceptional circumstances.
Pathway course
Successful completion of the Insearch Diploma of Science guarantees entry into the course with 48 credit points of recognition of prior learning.
Assumed knowledge
Mathematics; any two units of English; any two units of Science.
Mathematics Extension 1; Biology (environmental biotechnology) are recommended.
Course duration and attendance
This course is offered on a three-year, full-time or six-year, part-time basis. Part-time students are required to attend some classes in daytime hours.
Course structure
Students must complete 144 credit points, made up of a 102-credit-point major selection, 24 credit points of electives and 18 credit points of core subjects. Majors are available in: pre-medicine; pharmaceutical sciences; and environmental biotechnology.
Industrial training/professional practice
Students studying this course have an opportunity to undertake an internship subject and receive academic credit for their placement off campus (an external business or research institute) or on campus (UTS research institutes or departments), in a capacity relevant to their academic studies.
Course completion requirements
| | | |
| --- | --- | --- |
| STM91201 Core subjects (Advanced Science) | | 18cp |
| CBK90232 Electives (Science UG) | | 24cp |
| CBK91246 Major choice | | 102cp |
| Total | | 144cp |
Course diagram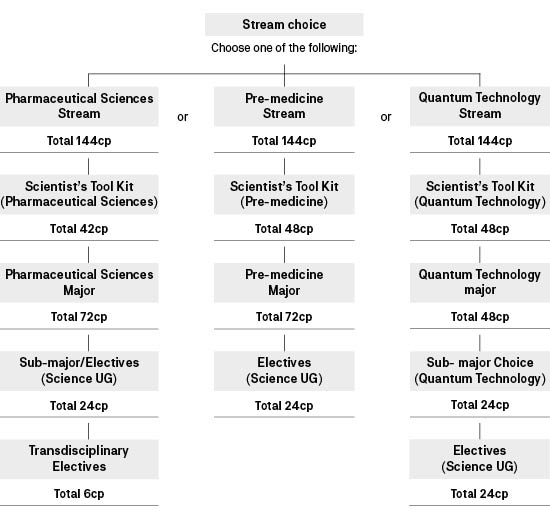 Course program
The following examples show typical full-time programs for each of the majors.
Environmental Biotechnology major
Year 1
Autumn session
65111 Chemistry 1
6cp
33190 Mathematical Modelling for Science
6cp
91161 Cell Biology and Genetics
6cp
68041 Physical Aspects of Nature
6cp
Spring session
65213 Chemistry 2 (Advanced)
6cp
91123 Biocomplexity
6cp
26100 Integrating Business Perspectives
6cp
60207 Research Methods
6cp
Year 2
Autumn session
91320 Metabolic Biochemistry
6cp
91314 General Microbiology
6cp
Select 6 credit points of options
6cp
60201 Advanced Research Project 1
6cp
Spring session
91132 Molecular Biology 1
6cp
Select 6 credit points of options
6cp
60202 Advanced Research Project 2
6cp
42001 Bioinformatics
6cp
Year 3
Autumn session
91142 Biotechnology
6cp
Select 12 credit points of options
12cp
60203 Advanced Research Project 3
6cp
Spring session
91817 Medical Biotechnology
6cp
91818 Environmental Biotechnology
6cp
91368 Bioreactors and Bioprocessing
6cp
60204 Advanced Research Project 4
6cp
Pre-Medicine major, Autumn commencing
Year 1
Autumn session
65111 Chemistry 1
6cp
91161 Cell Biology and Genetics
6cp
91314 General Microbiology
6cp
60208 Quantitative Skills for Science
6cp
Spring session
65213 Chemistry 2 (Advanced)
6cp
68041 Physical Aspects of Nature
6cp
91400 Human Anatomy and Physiology
6cp
60207 Research Methods
6cp
Year 2
Autumn session
91703 Physiological Systems
6cp
91320 Metabolic Biochemistry
6cp
Select 6 credit points of options
6cp
91500 Histology
6cp
Spring session
91239 Human Pathophysiology
6cp
91812 Human Anatomy 2
6cp
Select 6 credit points of options
6cp
91401 Immunology 1
6cp
Year 3
Autumn session
91707 Pharmacology 1
6cp
91706 Neuroscience
6cp
99584 Clinical Features of Disease
6cp
91813 Human Anatomy 3
6cp
Spring session
91709 Pharmacology 2
6cp
91708 Medical and Applied Physiology
6cp
Select 12 credit points of options
12cp
Pre-Medicine major, Spring commencing
Year 1
Spring session
65111 Chemistry 1
6cp
91161 Cell Biology and Genetics
6cp
91400 Human Anatomy and Physiology
6cp
68041 Physical Aspects of Nature
6cp
Summer session
65212 Chemistry 2
6cp
Year 2
Autumn session
91314 General Microbiology
6cp
60208 Quantitative Skills for Science
6cp
91703 Physiological Systems
6cp
91320 Metabolic Biochemistry
6cp
Spring session
91239 Human Pathophysiology
6cp
91812 Human Anatomy 2
6cp
91401 Immunology 1
6cp
60207 Research Methods
6cp
Year 3
Autumn session
91707 Pharmacology 1
6cp
91706 Neuroscience
6cp
91813 Human Anatomy 3
6cp
91500 Histology
6cp
Spring session
91709 Pharmacology 2
6cp
91708 Medical and Applied Physiology
6cp
Select 12 credit points of options
12cp
Year 4
Autumn session
99584 Clinical Features of Disease
6cp
Select 12 credit points of options
12cp
Pharmaceutical Sciences major, Autumn commencing
Year 1
Autumn session
65111 Chemistry 1
6cp
91161 Cell Biology and Genetics
6cp
91314 General Microbiology
6cp
60208 Quantitative Skills for Science
6cp
Spring session
65213 Chemistry 2 (Advanced)
6cp
68041 Physical Aspects of Nature
6cp
91400 Human Anatomy and Physiology
6cp
60207 Research Methods
6cp
Year 2
Autumn session
91703 Physiological Systems
6cp
91320 Metabolic Biochemistry
6cp
Select 6 credit points of electives
6cp
65202 Organic Chemistry 1
6cp
Spring session
91239 Human Pathophysiology
6cp
91812 Human Anatomy 2
6cp
Select 6 credit points of electives
6cp
65001 Medicinal Chemistry
6cp
Year 3
Autumn session
91707 Pharmacology 1
6cp
99584 Clinical Features of Disease
6cp
91813 Human Anatomy 3
6cp
Select 6 credit points of electives
6cp
Spring session
91709 Pharmacology 2
6cp
91708 Medical and Applied Physiology
6cp
Select 6 credit points of electives
6cp
91330 Epidemiology and Public Health Microbiology
6cp
Other information
Further information is available from:
UTS Student Centre
telephone 1300 ask UTS (1300 275 887)
or +61 2 9514 1222
Ask UTS