C10308v2 Bachelor of Design in Visual Communication
Award(s): Bachelor of Design in Visual Communication (BDesign)UAC code: 602070 (Autumn session)CRICOS code: 077339C
Commonwealth supported place?: Yes
Load credit points: 144
Course EFTSL: 3
Location: City campus
Notes
This course version is for students commencing in 2020 and onwards.
Overview
Course aims
Career options
Course intended learning outcomes
Admission requirements
Applications
Assumed knowledge
Course duration and attendance
Course structure
Course completion requirements
Course diagram
Course program
Honours
Professional recognition
Other information
Overview
In the Bachelor of Design in Visual Communication students learn how to create visual messages and experiences that communicate information and ideas across many media.
Students experiment with both traditional and emerging design practices, and develop a visual language that allows them to work across digital, physical and analogue media. This visual language is broad, encompassing typography, interaction and image-making.
This degree prepares students for the evolving nature of design by engaging with the social, technological and ecological context of design practice.
Graduates are industry-ready, thanks to their ability to articulate design practices and process, the degree's internship program, and the curriculum's emphasis on real-world problem solving.
Course aims
The degree has a hands-on, studio-based culture that is supported by a strong theoretical component. Academics encourage both traditional and experimental research methods to help students make work that is conceptually rigorous and socially responsive.
Offering a variety of interdisciplinary subjects, graduates are able to move into their professional lives with the diverse knowledge and skills required to work collaboratively and across disciplines. All students work with industry clients on real-world projects and undertake work experience during their degree.
Career options
There are many career options in a range of fields for graduates, such as digital media, publication designer, graphic designer, interactive media designer, web designer, branding specialist, art director, motion graphics designer, advertising, illustrator, and exhibition designer. Graduates are also equipped with the skills to become writers, researchers, editors and critics, and to apply design thinking in a non-design industry business.
Course intended learning outcomes
| | |
| --- | --- |
| A.1 | Apply sensitive and respectful behaviours in diverse social and cultural contexts |
| A.2 | Awareness of and/or engagement with sustainable and socially responsible practices |
| A.3 | Reflective approaches to design practice |
| A.4 | Cultural awareness required to work sensitively in Indigenous contexts |
| C.1 | Professional and academic visual, oral and written presentation skills |
| C.2 | A capacity to collaborate effectively in a variety of group work contexts |
| I.1 | Capacity to create designs that respond to their context in formally or conceptually innovative ways |
| I.2 | Advance ideas through an exploratory and iterative design process |
| P.1 | Independent development of high level technical and craft skills for the production, presentation and documentation of your work |
| P.2 | Awareness of and/or engagement with the local and global design community |
| P.3 | Understanding of academic and professional ethics, copyright and appropriate acknowledgement of intellectual property |
| P.4 | An ability to critique your own work and the work of others with reference to standards drawn from contemporary design practice |
| R.1 | Development of relevant insights and arguments from research |
| R.2 | Employ a range of qualitative research approaches including practice-led visual and material exploration and social and participatory methods |
Admission requirements
Applicants must have completed an Australian Year 12 qualification, Australian Qualifications Framework Diploma, or equivalent Australian or overseas qualification at the required level.
UTS: Design, Architecture and Building may consider applications based on the results of the Special Tertiary Admissions Test (STAT) if students lack academic qualifications but have extensive professional experience. The STAT is conducted through the Universities Admissions Centre.
Students must refer to the inherent requirements for all degrees offered by Design and Architecture in the Faculty of Design, Architecture and Building.
Non-current school leavers are selected on the basis of academic merit or on the basis of portfolio and interview rank.
Students must refer to the portfolio eligibility for the faculty's consideration in order to get a place.
The English proficiency requirement for international students or local applicants with international qualifications is: Academic IELTS: 6.5 overall with a writing score of 6.0; or TOEFL: paper based: 550-583 overall with TWE of 4.5, internet based: 79-93 overall with a writing score of 21; or AE5: Pass; or PTE: 58-64; or CAE: 176-184.
Eligibility for admission does not guarantee offer of a place.
International students
Visa requirement: To obtain a student visa to study in Australia, international students must enrol full time and on campus. Australian student visa regulations also require international students studying on student visas to complete the course within the standard full-time duration. Students can extend their courses only in exceptional circumstances.
Applications
International students
International students (excluding those studying in an Australian high school) must submit an application to UTS International (in person, by mail or online) or through an accredited UTS representative.
International students with an ATAR up to five points below the minimum cut-off must submit the following material:
a six-page digital portfolio in PDF format (landscape) of their work; this may include images, animation or video (max. size 5MB)
one of the pages must be a 150–200-word written submission that selects and identifies one of the submitted pieces of work, and addresses the aim of the work and why it succeeded (to enable this PDF to be easily viewed, text must be supplied in 16-point Helvetica font, with 1.5 line spacing).
The faculty reserves the right to request a portfolio from applicants.
Assumed knowledge
Any two units of English.
Design and Technology, Visual Arts are recommended.
Course duration and attendance
The course is offered on a three-year, full-time basis. Students may study this program part time after consultation with the program director.
Course structure
Students must complete 144 credit points made up of 120 credit points of core subjects and 24 credit points of electives.
Course completion requirements
Course diagram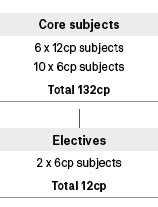 Course program
A typical program is shown below.
Year 1
Autumn session
87631 VC Design Studio: Text and Image 1
12cp
87100 VC Project: Ways of Seeing
6cp
85502 Researching Design Histories
6cp
Spring session
87632 VC Design Studio: Text and Image 2
12cp
87222 VC Project: Symbols and Systems
6cp
85503 Thinking Through Design
6cp
Year 2
Autumn session
87731 VC Design Studio: Narrative, Form and Time
12cp
87441 VC Project: Contexts of Visual Communication
6cp
Select 6 credit points of options
6cp
Spring session
87443 VC Project: Typography in Context
6cp
87009 VC Project: Visualising Experience
12cp
85202 Design Futuring
6cp
Year 3
Autumn session
87832 VC Design Studio: Design Practice
12cp
85302 Social Media Cultures
6cp
87012 VC Project: Research Through Design
6cp
Spring session
87011 VC Design Studio: Visual Communication and Emergent Practices
6cp
87010 VC Project: Socially Responsive Design
12cp
Select 6 credit points of options
6cp
Honours
The Bachelor of Design (Honours) in Visual Communication (C09061) is available to meritorious students with an additional one year of full-time study.
Professional recognition
Graduates are eligible for membership of the Design Institute of Australia (DIA) and the Australian Graphic Design Association (AGDA).
Other information
Further information is available from the UTS Student Centre on:
telephone 1300 ask UTS (1300 275 887)
or +61 2 9514 1222
Ask UTS
UTS: Design, Architecture and Building