C10447v1 Bachelor of Criminology Bachelor of International Studies
Award(s): Bachelor of Criminology in Digital Security (BCrim)
Bachelor of Criminology in Analytics and Research (BCrim)
Bachelor of Criminology (BCrim)
Bachelor of International Studies (BIntSt)UAC code: 609165 (Autumn session)CRICOS code: 106141F
Commonwealth supported place?: Yes
Load credit points: 240
Course EFTSL: 5
Location: City campus
Overview
Course aims
Career options
Course intended learning outcomes
Admission requirements
Assumed knowledge
Recognition of prior learning
Course duration and attendance
Course structure
Course completion requirements
Course diagram
Course program
Other information
Overview
The Bachelor of Criminology Bachelor of International Studies prepares students to respond to the changing nature of crime in the 21st century by addressing the realities of crime in an increasingly digital and transnational age. Ideal for those starting their careers or extending their learning to respond to industry needs, students specialise in either digital forensics & security, data analytics & research, justice & legal studies, or forensics and complement this with studies of a language other than English, intercultural communication and practical cultural experience to engage with diverse populations in a professional context.
The mix of theory and practice in core subjects, in the curated majors and via possible combined degrees with Forensic Science and International Studies addresses industry needs for an applied approach to criminology and the increasingly digital and transnational dimensions of crime.
The course is offered primarily on campus, but individual subjects include aspects of asynchronous self-paced learning, synchronous online activities, collaborative learning and activities on campus, and industry engagement via site visits and/or guest speakers.
Course aims
This course is designed to address areas of current demand for graduate employment balanced with the critical skills needed to work in and transform industry into the future. Course-long industry engagement prepares graduates to pursue careers at all levels of government, in law enforcement, criminal justice, corrections, border protection, the financial or insurance sectors, or within community organisations concerned with crime prevention and rehabilitation, both in Australia and internationally.
Career options
Career options include police officer, law enforcement agent, corrections officer, border force officer, customs officer, crime prevention analyst, policy analyst, community justice/development worker, government worker, evaluator, cyber security analyst, fraud prevention analyst, digital fraud prevention analyst, intelligence officer, ICT security specialist, security consultant.
Course intended learning outcomes
| | |
| --- | --- |
| 1.1 | Demonstrate in-depth knowledge of the criminal justice system and exisiting and emerging threats to justice, public safety and property. |
| 1.2 | Apply and evaluate methodologies, technologies and practices relevant to contemporary criminology for policy formulation, risk analysis and stakeholder co-operation |
| 2.1 | Employ skills in critical analysis, problem solving, data literacy to analyse and respond to criminal justice and social policy challenges within organisations, communities and systems of governance |
| 3.1 | Analyse crime as a global phenomenon and explain how different jurisdictions define and respond to current and emerging trends in crime |
| 3.2 | Employ knowledge from an about local and international contexts to understand and respond appropriately to intercultural dimensions of crime and justice |
| 4.1 | Examine the impact of historical and contemporary legal and criminal justice policies and practices upon Indigenous peoples and communities |
| 4.2 | Develop practices that promote fair and just outcomes for Indigenous peoples' and communities within the legal and criminal justice system |
| 5.1 | Act with personal and ethical integrity and demonstrate social responsibility, demonstrating a critical understanding of the links between criminal law, criminal process, criminalization, poverty, disadvantage and justice |
| 6.1 | Communicate clearly and effectively in written and spoken language using diverse digital technologies. |
| 6.1 | Convey complex concepts clearly, logically and effectively in written and oral forms to a variety of audiences |
| 6.2 | Communicate for high-level collaborative engagement and be competent in working in teams to address issues in crime |
| INT.1.1 | Understand and employ effective strategies to operate within professional and everyday settings across diverse cultures in Australia and/or internationally. |
| INT.2.1 | Evaluate critically theoretical and specialised knowledge of contemporary societies, cultures and workplaces. |
| INT.2.2 | Analyse, generate and communicate creative solutions to work-related problems within professional and everyday settings across diverse cultures in Australia and internationally. |
| INT.3.1 | Understand and engage with cultural diversities in Australia and/or internationally. |
| INT.4.1 | Apply knowledge of Indigenous peoples, cultures, languages and histories to practice in Australian and internationally. |
| INT.5.1 | Engage critically with current issues to act in socially responsible ways in Australian and international settings. |
Key
INT = International Studies course intended learning outcomes (CILOs)
Admission requirements
Applicants must have completed an Australian Year 12 qualification, Australian Qualifications Framework Diploma, or equivalent Australian or overseas qualification at the required level.
The English proficiency requirement for international students or local applicants with international qualifications is: Academic IELTS: 6.5 overall with a writing score of 6.0; or TOEFL: paper based: 550-583 overall with TWE of 4.5, internet based: 79-93 overall with a writing score of 21; or AE5: Pass; or PTE: 58-64; or CAE: 176-184.
Eligibility for admission does not guarantee offer of a place.
International students
Visa requirement: To obtain a student visa to study in Australia, international students must enrol full time and on campus. Australian student visa regulations also require international students studying on student visas to complete the course within the standard full-time duration. Students can extend their courses only in exceptional circumstances.
Assumed knowledge
Any two units of English.
There are no prior language requirements for the International Studies program. During their first year of study students complete a language survey to ensure they commence their language and culture study at the appropriate level.
Recognition of prior learning
For those with backgrounds in law enforcement, defence and corrections, their prior learning and experience is recognised.
Course duration and attendance
The course is offered on a five-year, full-time basis.
Course structure
Students must complete 240 credit points, comprising:
Core subjects (72 credit points)
Major subjects (72 credit points)
International Studies subjects (96 credit points)
In the International Studies component students select the language they will study at the time of enrolment, and either the Language, Culture and the Professional World pathway or the Language, Culture and Global Exchange pathway. Information relating to entry into the International Honours pathway can be found in the Information for Students section.
Overseas study
In the Bachelor of International Studies students have the following options:
1. Language, Culture & the Professional World: includes an internship and option of a short study abroad experience (2-6 weeks) overseas.
2. Language, Culture & Global Exchange: includes an internship and a 6-month global exchange at any UTS partner university.
3. International Honours: includes a full year at a relevant partner university where students complete an honours level research project.
Course completion requirements
| | | |
| --- | --- | --- |
| STM91629 Core subjects (Criminology) | | 72cp |
| CBK92041 72cp Major or submajor and elective choice (Criminology) | | 72cp |
| CBK92057 Country and Language choice | | 96cp |
| Total | | 240cp |
Course diagram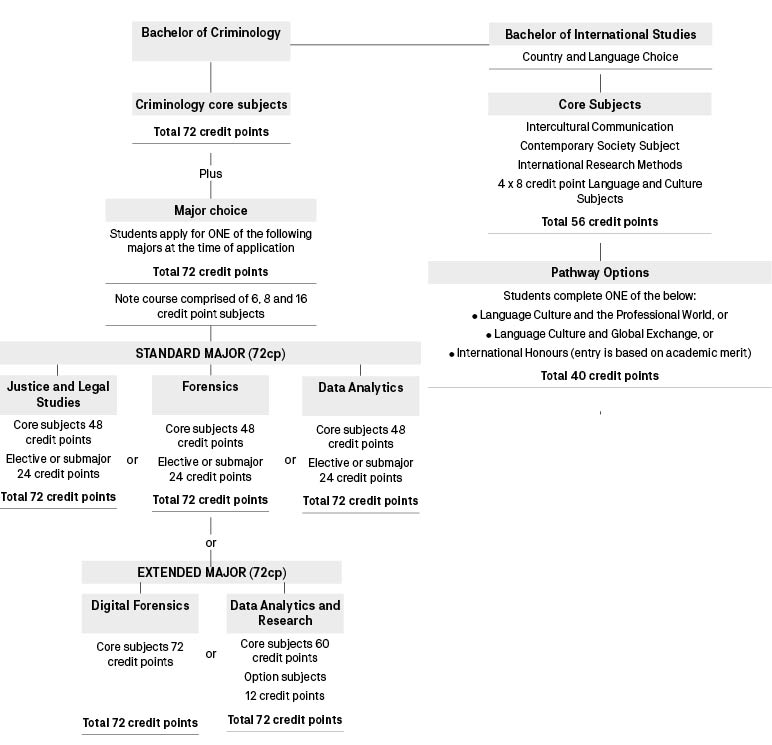 Course program
The typical programs shown below are for a full-time student who has chosen the Bachelor of Criminology Digital Forensics major, and German Language and Culture major in the Bachelor of International Studies. Other majors may be selected from the list of majors available. It is recommended that students who elect to complete the Language, Culture & Global Exchange pathway complete 999781 International Research Methods in Year 3 Autumn, so that they can undertake their Exchange session during Year 4 Autumn.
The typical program for all of the Bachelor of Criminology majors can be found in the Handbook under C10446 Bachelor of Criminology. For the other country and language majors the pattern of enrolment remains the same, except students select the subjects relevant to their major.
Digital Forensics major with German major as an example, Autumn commencing, full time
Year 1
Autumn session
98000 Introduction to Criminology
6cp
70102 Foundations of Law
8cp
33116 Design, Data, and Decisions
6cp
31268 Web Systems
6cp
Spring session
98001 Crime Data: Analysis and Interpretation
8cp
48023 Programming Fundamentals
6cp
31250 Introduction to Data Analytics
6cp
41092 Network Fundamentals
6cp
Year 2
Autumn session
52670 Self and Society
6cp
65325 Digital Trace and Identity
6cp
976421 Contemporary Germany
8cp
97601 German Language and Culture 1
8cp
98002 Indigenous Perspectives on Crime and Justice
8cp
99218 Intercultural Communication
8cp
97602 German Language and Culture 2
8cp
Year 3
Autumn session
98003 Research Methods for Social Sciences
8cp
48730 Cybersecurity
6cp
97603 German Language and Culture 3
8cp
Spring session
98004 Emerging Issues in Crime and Criminology
6cp
65326 Digital and Cyber Crime
6cp
97604 German Language and Culture 4
8cp
Year 4
Autumn session
999781 International Research Methods
8cp
Select 16 credit points from the following:
16cp
CBK92076 Pathway Options (Germany)
40cp
Spring session
Select 24 credit points from the following:
24cp
CBK92076 Pathway Options (Germany)
40cp
Year 5
Autumn session
98005 Policy Evaluation: Local and International Approaches
6cp
41900 Cryptography
6cp
48436 Digital Forensics
6cp
Spring session
98006 Industry Project
16cp
41181 Information Security and Management
6cp
65327 Web Monitoring and Investigations
6cp
Other information
Further information is available from:
UTS Student Centre
telephone 1300 ask UTS (1300 275 887)
or +61 2 9514 1222
Ask UTS