C10229v6 Bachelor of Games Development
Award(s): Bachelor of Games Development (BGameDev)UAC code: 603225 (Autumn session)CRICOS code: 057197M
Commonwealth supported place?: Yes
Load credit points: 144
Course EFTSL: 3
Location: City campus
Overview
Course aims
Career options
Innovation and Transdisciplinary program
Course intended learning outcomes
Admission requirements
Pathway course
Inherent (essential) requirements
Assumed knowledge
Recognition of prior learning
Course duration and attendance
Course structure
Course completion requirements
Course diagram
Course program
Levels of award
Honours
Professional recognition
Other information
Overview
This course offers a sound education in all aspects of information technology and develops the diverse skills necessary for a career in computer games development.
Graduates gain an enhanced work-ready expertise in games development, iterative design processes, team project planning and management, and games-specific technology. In doing so, graduates are equipped with a wide range of skills that can be applied to a range of IT careers, such as practical problem-solving skills, the application of theory and cutting-edge research to a real-world context, programming across a variety of languages, professional verbal and written communication, entrepreneurship, life-long learning, and an awareness of the principles of ethics in the IT sector.
Course aims
This course aims to produce graduates who are able to:
apply core technical skills to problem analysis and decision-making in computer games development
collaborate and be creative within a professional environment through the application of technical, problem-solving and teamwork skills
communicate effectively in a variety of forms across diverse business and technical environments
apply ethical, legal and political considerations to technological issues as socially responsible professionals
demonstrate a capacity to take a leadership role in technical and business situations, and
be proactive and reflective learners in relation to knowledge, skills, experience and career direction.
Career options
Career options include computer game developer, data analyst, game/interaction designer, generalist programmer, graphics engine specialist, IT project manager, network specialist, software engineer, web developer.
Innovation and Transdisciplinary program
Transdisciplinarity and Innovation at UTS
All UTS students have the opportunity to develop distinctive capabilities around transdisciplinary thinking and innovation through the TD School. Transdisciplinary education at UTS brings together great minds from different disciplines to explore ideas that improve the way we live and work in the world. These offerings are unique to UTS and directly translate to many existing and emerging roles and careers.
Diploma in Innovation
The Diploma in Innovation (C20060) teaches innovation, supports personal transformation and provides the hard skills needed to support the inventors and inventions of the future. Students come out of the Diploma in Innovation, with the hard skills to create and support sectoral and societal transformation. Graduates are able to fluently integrate ideas, across professional disciplines and are inventors of the future.
All UTS undergraduate students (with the exception of students concurrently enrolled in the Bachelor of Creative Intelligence and Innovation) can apply for the Diploma in Innovation upon admission in their chosen undergraduate degree. It is a complete degree program that runs in parallel to any undergraduate degree. The course is offered on a three-year, part-time basis, with subjects running in 3-week long intensive blocks in July, December and February sessions. More information including a link to apply is available at https://dipinn.uts.edu.au.
Transdisciplinary electives program
Transdisciplinary electives broaden students' horizons and supercharge their problem-solving skills, helping them to learn outside, beyond and across their degrees. Students enrolled in an undergraduate course that includes electives can choose to take a transdisciplinary subject (with the exception of students concurrently enrolled in the Bachelor of Creative Intelligence and Innovation). More information about the TD Electives program is available here.
Course intended learning outcomes
| | |
| --- | --- |
| A.1 | Bachelor of Games Development graduates are culturally and historically informed, able to work as respectful professionals with Aboriginal and Torres Strait Islander communities. |
| B.1 | Bachelor of Games Development graduates understand stakeholder needs and demonstrate social and cultural awareness when creating playful and interactive solutions that achieve a positive impact in the lives of diverse audiences. |
| C.1 | Bachelor of Games Development graduates apply human-centred design methodologies and game design theories to create engaging experiences. |
| D.1 | Bachelor of Games Development graduates demonstrate software engineering knowledge and practical skills, with an emphasis on game design and development life-cycles. |
| E.1 | Bachelor of Games Development graduates work as an effective member or leader of diverse teams, communicating effectively and operating within cross-disciplinary and cross-cultural contexts in the workplace. |
| F.1 | Bachelor of Games Development graduates demonstrate autonomy and entrepreneurship, critically reviewing their game development products, processes and skills. |
Admission requirements
Applicants must have completed an Australian Year 12 qualification, Australian Qualifications Framework Diploma, or equivalent Australian or overseas qualification at the required level.
Current school leavers are advised to complete the Year 12 Engineering and IT Questionnaire. The questionnaire allows applicants to demonstrate their strong motivation to study engineering or IT at UTS and may assist applicants whose ATAR falls short of the required cut-off by up to three points.
Non-current school leavers are advised to complete the employment question on their UAC application as adjustment factors may be applied on the basis of relevant work experience.
The English proficiency requirement for international students or local applicants with international qualifications is: Academic IELTS: 6.5 overall with a writing score of 6.0; or TOEFL: paper based: 550-583 overall with TWE of 4.5, internet based: 79-93 overall with a writing score of 21; or AE5: Pass; or PTE: 58-64 with a writing score of 50; or C1A/C2P: 176-184 with a writing score of 169.
Eligibility for admission does not guarantee offer of a place.
International students
Visa requirement: To obtain a student visa to study in Australia, international students must enrol full time and on campus. Australian student visa regulations also require international students studying on student visas to complete the course within the standard full-time duration. Students can extend their courses only in exceptional circumstances.
Pathway course
Applicants who complete the UTS College Diploma of Information Technology with:
no more than two subject failures (international applicants); or
the required minimum grade point average (domestic applicants)
are guaranteed admission to the Bachelor of Games Development with up to 48 credit points of recognition of prior learning.
Inherent (essential) requirements
Inherent (essential) requirements are academic and non-academic requirements that are essential to the successful completion of a course.
Prospective and current students should carefully read the Inherent (Essential) Requirements Statement below and consider whether they might experience challenges in successfully completing this course. This Statement should be read in conjunction with the UTS Student Rules.
Prospective or current student concerned about their ability to meet these requirements should discuss their concerns with the Academic Liaison Officer in their faculty or school and/or UTS Accessibility Service on 9514 1177 or at accessibility@uts.edu.au.
UTS will make reasonable adjustments to teaching and learning, assessment, professional experiences, course related work experience and other course activities to facilitate maximum participation by students with disabilities, carer responsibilities, and religious or cultural obligations in their courses.
For course specific information see the Faculty of Engineering & Information Technology Inherent (Essential) Requirements Statement.
Assumed knowledge
HSC Mathematics Advanced and any two units of English. Mathematics Extension 1 and English Advanced are recommended.
Recognition of prior learning
Students who have previously undertaken relevant study at a recognised tertiary education institution may be eligible for recognition of prior learning (RPL) if the subjects completed are deemed by the faculty to be equivalent to subjects in the student's course. Subjects completed as part of a qualification in which study ceased no more than 10 years prior to the student's first semester in the relevant UTS Information Technology degree may be considered. Limits apply to the number of credit points of RPL granted.
Course duration and attendance
The course can be completed in three years of full-time or six years of part-time study.
Course structure
Students are required to complete 144 credit points, comprising:
IT core (48 credit points)
games development core (60 credit points); and
choice of (36 credit points):

one sub-major and two electives; or
six electives
Industrial training/professional practice
Industrial training is available as an additional year by concurrently enrolling in the Diploma in Information Technology Professional Practice (C20056). The diploma comprises a minimum of nine months' full-time paid work experience and supporting subjects at UTS.
Course completion requirements
| | | |
| --- | --- | --- |
| STM90651 Core subjects (Information Technology) | | 48cp |
| STM91759 Core subjects (Games Development) | | 72cp |
| CBK92188 Sub-major/Electives Games Development | | 24cp |
| Total | | 144cp |
Course diagram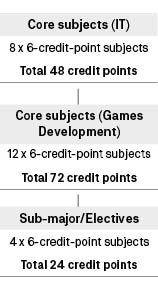 Course program
The program below shows a suggested sequence of subjects for a full-time student. It is intended as a guide only and does not take into account such factors as recognition of prior learning, changes in attendance mode and subject availability, or satisfactory academic progress. Students should consult the Timetable Planner to confirm the availability of subjects in the current academic year.
Year 1
Autumn session
31268 Web Systems
6cp
31265 Communication for IT Professionals
6cp
31266 Introduction to Information Systems
6cp
41039 Programming 1
6cp
Spring session
31269 Business Requirements Modelling
6cp
48024 Programming 2
6cp
31260 Fundamentals of Interaction Design
6cp
31263 Introduction to Computer Game Development
6cp
Year 2
Autumn session
31264 Computer Graphics
6cp
31271 Database Fundamentals
6cp
31262 Game Design Methodologies
6cp
31251 Data Structures and Algorithms
6cp
Spring session
41092 Network Fundamentals
6cp
41024 Advanced Games Programming
6cp
31272 Project Management and the Professional
6cp
Select 6 credit points from the following:
6cp
CBK92069 Transdisciplinary Electives
6cp
Year 3
Autumn session
31241 Interactive 3D Animation
6cp
31102 Game Design Studio 1
6cp
Select 12 credit points of options
12cp
Spring session
31103 Game Design Studio 2
6cp
Select 12 credit points of options
12cp
31248 Serious Games and Gamification Studio
6cp
Levels of award
The Bachelor of Games Development may be awarded with distinction, credit or pass.
Honours
Students interested in research and who excel in their studies are eligible to undertake one additional full-time year of study in the Bachelor of Information Technology (Honours) (C09019). The honours year is also available on a part-time basis over two years.
Professional recognition
Graduates are eligible to apply for professional-level membership of the Australian Computer Society.
Other information
Further information is available from:
UTS Student Centre
telephone 1300 ask UTS (1300 275 887) or +61 2 9514 1222
Ask UTS