C10448v1 Bachelor of Criminology Bachelor of Forensic Science
Award(s): Bachelor of Criminology (BCrim)
Bachelor of Forensic Science (BForSc)UAC code: 609166 (Autumn session)CRICOS code: 106142E
Commonwealth supported place?: Yes
Load credit points: 192
Course EFTSL: 4
Location: City campus
Overview
Course aims
Career options
Innovation and Transdisciplinary program
Course intended learning outcomes
Admission requirements
Assumed knowledge
Recognition of prior learning
Course duration and attendance
Course structure
Course completion requirements
Course diagram
Course program
Other information
Overview
The Bachelor of Criminology Bachelor of Forensic Science prepares students to respond to the changing nature of crime in the 21st century by addressing the realities of crime and forensics in an increasingly digital and transnational age. Students develop a skill set that combines enabling sciences, social sciences, in-depth understandings of forensic science and crime in the context of their chosen specialisations in both components of the course.
This course provides students with a thorough understanding of how forensic science and criminology can solve and prevent crime. This is a hands-on course using world-class facilities that are modelled on operational laboratories.
This degree combines theory and practice to address industry needs for an applied approach to criminology and specifically addresses the increasingly digital and transnational dimensions of crime. Students work with data sets, tools, problems and cases used in industry and contributed by UTS partners to be work-ready.
In the Bachelor of Criminology students are able to select from a standard major or an extended major:
Standard majors - Forensics, Data Analytics, or Justice and Legal Studies.
Extended majors - Analytics and Research, or Digital Security
In the Bachelor of Forensic Science students are able to select from 4 majors: Chemistry, Biology, Crime Scene Investigation, or Digital Forensics.
The course is offered primarily on campus, but individual subjects include aspects of asynchronous self-paced learning, synchronous online activities, collaborative learning and activities on campus, and industry engagement via site visits and/or guest speakers.
Pathways: The service of commissioned officers and those who have completed agency training courses is recognised as part of the basis for admission and Recognition of Prior Learning (RPL) for fast-tracking of degree completion.
Course aims
The aim is to produce professional forensic scientists with highly adaptable scientific skills accompanied by a thorough grounding in social theory, methods and practice. This is a course with strong links to industries such as the federal and state police services, national and international forensic institutions, and government laboratories.
Career options
Career options include police officer, law enforcement agent, corrections officer, border force officer, customs officer, crime prevention analyst, policy analyst, community justice/development worker, government worker, evaluator, cyber security analyst, fraud prevention analyst, digital fraud prevention analyst, intelligence officer, ICT security specialist, security consultant.
Chemistry major: Criminalist, trace evidence specialist, explosive specialist, analytical chemist, toxicologist, clinical or regulatory toxicologist, analytical technician.
Biology major: DNA specialist, forensic scientist, molecular research scientist, hospital scientist, pathology technician, forensic anthropologist, forensic pathology technician.
Crime scene investigation major: Scene-of-crime officer, team leader in investigations, fire investigator, trace evidence specialist, forensic scientist, analyst.
Digital forensics major: Digital forensic scientist or analyst, e-Discovery analyst, cyberthreat intelligence analyst, fraud investigator, information security analyst, malware analyst.
Innovation and Transdisciplinary program
Transdisciplinarity and Innovation at UTS
All UTS students have the opportunity to develop distinctive capabilities around transdisciplinary thinking and innovation through the TD School. Transdisciplinary education at UTS brings together great minds from different disciplines to explore ideas that improve the way we live and work in the world. These offerings are unique to UTS and directly translate to many existing and emerging roles and careers.
Diploma in Innovation
The Diploma in Innovation (C20060) teaches innovation, supports personal transformation and provides the hard skills needed to support the inventors and inventions of the future. Students come out of the Diploma in Innovation, with the hard skills to create and support sectoral and societal transformation. Graduates are able to fluently integrate ideas, across professional disciplines and are inventors of the future.
All UTS undergraduate students (with the exception of students concurrently enrolled in the Bachelor of Creative Intelligence and Innovation) can apply for the Diploma in Innovation upon admission in their chosen undergraduate degree. It is a complete degree program that runs in parallel to any undergraduate degree. The course is offered on a three-year, part-time basis, with subjects running in 3-week long intensive blocks in July, December and February sessions. More information including a link to apply is available at https://dipinn.uts.edu.au.
Transdisciplinary electives program
Transdisciplinary electives broaden students' horizons and supercharge their problem-solving skills, helping them to learn outside, beyond and across their degrees. Students enrolled in an undergraduate course that includes electives can choose to take a transdisciplinary subject (with the exception of students concurrently enrolled in the Bachelor of Creative Intelligence and Innovation). More information about the TD Electives program is available here.
Course intended learning outcomes
| | |
| --- | --- |
| 1.1 | Demonstrate in-depth knowledge of the criminal justice system and existing and emerging threats to justice, public safety and property |
| 1.2 | Apply and evaluate methodologies, technologies and practices relevant to contemporary criminology for policy formulation, risk analysis and stakeholder cooperation |
| 2.1 | Employ skills in critical analysis, problem solving, data literacy to analyse and respond to criminal justice and social policy challenges within organisations, communities and systems of governance |
| 3.1 | Analyse crime as a global phenomenon and explain how different jurisdictions define and respond to current and emerging trends in crime |
| 3.2 | Employ knowledge from and about local and international contexts to understand and respond appropriately to intercultural dimensions of crime and justice |
| 4.1 | Examine the impact of historical and contemporary legal and criminal justice policies and practices upon Indigenous peoples and communities |
| 4.2 | Develop practices that promote fair and just outcomes for Indigenous peoples' and communities within the legal and criminal justice system |
| 5.1 | Act with personal and ethical integrity and demonstrate social responsibility, demonstrating a critical understanding of the links between criminal law, criminal process, criminalization, poverty, disadvantage and justice |
| 6.1 | Convey complex concepts clearly, logically and effectively in written and oral forms to a variety of audiences |
| 6.2 | Communicate for high-level collaborative engagement and be competent in working in teams to address issues in crime |
| SCI.1.1 | Apply: Demonstrate a command of forensic science practice, including the detection, collection, and analysis of traces using current, appropriate, and emerging processes and technologies. |
| SCI.1.2 | Analyse: Evaluate the collection of traces and interpret the results of analyses through the use of propositions, hypotheses, and statistical methods. |
| SCI.1.3 | Synthesise: Integrate information from individual and collective forensic analyses into investigative, evaluative, or intelligence frameworks. |
| SCI.2.1 | Apply: Employ investigative and problem-solving skills to evaluate forensic science problems. |
| SCI.2.2 | Analyse: Critically analyse and evaluate data, experimental results, and academic literature. |
| SCI.2.3 | Synthesise: Formulate hypotheses and design experimental methods to test these hypotheses, and evaluate and communicate results in a scientific and impartial manner. |
| SCI.3.1 | Apply: Practise safe, responsible, and professional conduct in laboratory and practical settings. |
| SCI.3.2 | Analyse: Practise professional ethical conduct through work-integrated learning. |
| SCI.3.3 | Synthesise: Discuss the impact and role of forensic science in addressing current and future challenges faced by law enforcement, the legal system, security, and the wider community. |
| SCI.4.1 | Apply forensic science and professional skills with a high degree of personal autonomy and reflection. |
| SCI.4.2 | Analyse: Devise and implement a relevant examination strategy to locate and examine traces. |
| SCI.4.3 | Synthesise: Demonstrate initiative and innovative thinking through creative problem solving applied to new case scenarios, situations, or challenges in forensic science practice. |
| SCI.5.1 | Apply: Demonstrate skills in case documentation. |
| SCI.5.2 | Analyse: Combine various methods to record and communicate observations and evaluation of traces throughout all stages of an investigation. |
| SCI.5.3 | Synthesise: Explain experimental findings to communicate conclusions, expert opinion, and the justification of professional decisions effectively to expert, scientific, and non-expert audiences. |
| SCI.6.1 | Apply: Demonstrate an appreciation of historical and contemporary Aboriginal and Torres Strait Islander Knowledges relevant to forensic science. |
| SCI.6.2 | Analyse: Develop cultural awareness for ethical and respectful practices, and when developing community relations. |
| SCI.6.3 | Synthesise: Engage and connect with Aboriginal and Torres Strait Islander Knowledges, as both experience and analysis, to inform professional practice. |
Key
SCI = Science course intended learning outcomes (CILOs)
Admission requirements
Applicants must have completed an Australian Year 12 qualification, Australian Qualifications Framework Diploma, or equivalent Australian or overseas qualification at the required level.
The English proficiency requirement for international students or local applicants with international qualifications is: Academic IELTS: 6.5 overall with a writing score of 6.0; or TOEFL: paper based: 550-583 overall with TWE of 4.5, internet based: 79-93 overall with a writing score of 21; or AE5: Pass; or PTE: 58-64 with a writing score of 50; or C1A/C2P: 176-184 with a writing score of 169.
Eligibility for admission does not guarantee offer of a place.
International students
Visa requirement: To obtain a student visa to study in Australia, international students must enrol full time and on campus. Australian student visa regulations also require international students studying on student visas to complete the course within the standard full-time duration. Students can extend their courses only in exceptional circumstances.
Assumed knowledge
Any two units of English, Mathematics, any 2 units of Science (Biology and Chemistry recommended).
Recognition of prior learning
For those with backgrounds in law enforcement, defence and corrections, their prior learning and experience is recognised.
Course duration and attendance
The course is offered on a four-year, full-time or eight-year, part-time basis.
Course structure
Students complete 192 credit points comprising:
Criminology core subjects (72 credit points)
Forensic Science core subjects (42 credit points)
Forensic Science major subjects (54 credit points)
Criminology elective subjects (24 credit points)
Course completion requirements
| | | |
| --- | --- | --- |
| STM91629 Core subjects (Criminology) | | 72cp |
| STM91630 42cp Core subjects (Forensic Science) BCrim BForSc | | 42cp |
| CBK91230 Major choice (Forensic Science) | | 54cp |
| CBK92043 24cp Electives Choice (Criminology) | | 24cp |
| Total | | 192cp |
Course diagram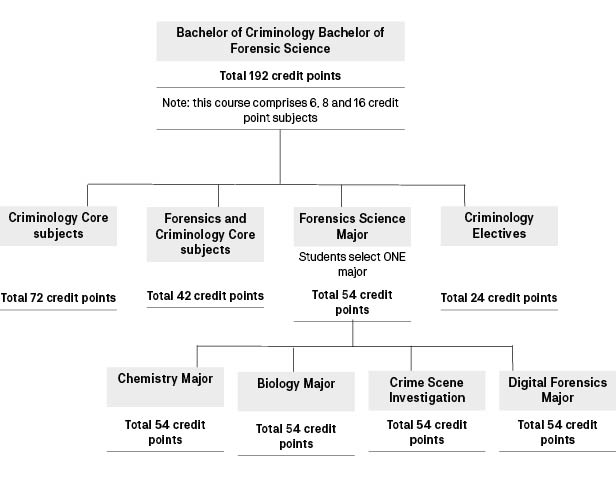 Course program
Below is the typical program for students completing the course full-time, and part-time.
Autumn commencing, full time
Year 1
Autumn session
98000 Introduction to Criminology
6cp
70102 Foundations of Law
8cp
65242 Principles of Forensic Science
6cp
Select 6 credit points from the following:
6cp
CBK91230 Major choice (Forensic Science)
54cp
Spring session
98001 Crime Data: Analysis and Interpretation
8cp
65312 Forensic Imaging
6cp
35255 Forensic Statistics
6cp
Select 6 credit points from the following:
6cp
CBK91230 Major choice (Forensic Science)
54cp
Year 2
Autumn session
98003 Research Methods for Social Sciences
8cp
65316 Criminalistics
6cp
Select 12 credit points from the following:
12cp
CBK91230 Major choice (Forensic Science)
54cp
Spring session
98002 Indigenous Perspectives on Crime and Justice
8cp
65314 Complex Cases
6cp
Select 12 credit points from the following:
12cp
CBK91230 Major choice (Forensic Science)
54cp
Year 3
Autumn session
52670 Self and Society
6cp
65342 Crime Scene Investigation
6cp
Select 6 credit points from the following:
6cp
CBK91230 Major choice (Forensic Science)
54cp
Select 6 credit points from the following:
6cp
CBK92043 24cp Electives Choice (Criminology)
24cp
Spring session
98004 Emerging and Contemporary Issues in Crime and Criminology
6cp
65313 Forensic Intelligence
6cp
Select 6 credit points from the following:
6cp
CBK91230 Major choice (Forensic Science)
54cp
Year 4
Autumn session
98005 Policy Evaluation: Local and International Approaches
6cp
Select 6 credit points from the following:
6cp
CBK91230 Major choice (Forensic Science)
54cp
Select 6 credit points from the following:
6cp
CBK92043 24cp Electives Choice (Criminology)
24cp
Spring session
98006 Criminology Industry Project
16cp
Select 6 credit points from the following:
6cp
CBK92043 24cp Electives Choice (Criminology)
24cp
Autumn commencing, part time
Year 1
Autumn session
98000 Introduction to Criminology
6cp
65242 Principles of Forensic Science
6cp
Spring session
70102 Foundations of Law
8cp
Select 6 credit points from the following:
6cp
CBK91230 Major choice (Forensic Science)
54cp
Year 2
Autumn session
98003 Research Methods for Social Sciences
8cp
65316 Criminalistics
6cp
Spring session
98001 Crime Data: Analysis and Interpretation
8cp
65312 Forensic Imaging
6cp
Year 3
Autumn session
52670 Self and Society
6cp
Select 6 credit points from the following:
6cp
CBK91230 Major choice (Forensic Science)
54cp
Spring session
98002 Indigenous Perspectives on Crime and Justice
8cp
65313 Forensic Intelligence
6cp
Year 4
Autumn session
65342 Crime Scene Investigation
6cp
Select 6 credit points from the following:
6cp
CBK92043 24cp Electives Choice (Criminology)
24cp
Spring session
98004 Emerging and Contemporary Issues in Crime and Criminology
6cp
Select 6 credit points from the following:
6cp
CBK91230 Major choice (Forensic Science)
54cp
Year 5
Autumn session
Select 12 credit points from the following:
12cp
CBK91230 Major choice (Forensic Science)
54cp
Spring session
35255 Forensic Statistics
6cp
Select 6 credit points from the following:
6cp
CBK91230 Major choice (Forensic Science)
54cp
Year 6
Autumn session
98005 Policy Evaluation: Local and International Approaches
6cp
Select 6 credit points from the following:
6cp
CBK92043 24cp Electives Choice (Criminology)
24cp
Spring session
Select 6 credit points from the following:
6cp
CBK91230 Major choice (Forensic Science)
54cp
Year 7
Autumn session
Select 6 credit points from the following:
6cp
CBK92043 24cp Electives Choice (Criminology)
24cp
Spring session
65314 Complex Cases
6cp
Select 6 credit points from the following:
6cp
CBK91230 Major choice (Forensic Science)
54cp
Year 8
Autumn session
Select 6 credit points from the following:
6cp
CBK91230 Major choice (Forensic Science)
54cp
Spring session
98006 Criminology Industry Project
16cp
Other information
Further information is available from:
UTS Student Centre
telephone 1300 ask UTS (1300 275 887)
or +61 2 9514 1222
Ask UTS