C10373v2 Bachelor of Communication (Media Arts and Production) Bachelor of Creative Intelligence and Innovation
Award(s): Bachelor of Communication (Media Arts and Production) (BComm)
Bachelor of Creative Intelligence and Innovation (BCIInn)UAC code: 609510 (Autumn session)CRICOS code: 087777J
Commonwealth supported place?: Yes
Load credit points: 240
Course EFTSL: 5
Location: City campus
Notes
Students who commenced the Bachelor of Arts in Communication (Media Arts and Production) Bachelor of Creative Intelligence and Innovation before 2016 can view their course program at Course transition arrangements.
Overview
Career options
Course intended learning outcomes
Admission requirements
Course duration and attendance
Course structure
Course completion requirements
Course diagram
Course program
Other information
Overview
This course prepares students for a wide range of roles within the media and cultural sectors. Students study the history, contemporary issues and theory of media and culture while developing technical and conceptual skills in film, video, new media and sound. The professional areas within the degree include film, video, television, multimedia, sound, radio, performance and installation, and the interplay among these media forms.
Taking a transdisciplinary approach, the Bachelor of Creative Intelligence and Innovation utilises multiple perspectives from diverse fields, integrating a range of industry experiences, real-world projects and self-initiated proposals, equipping graduates to address the wicked problems, complex challenges and untapped opportunities in today's world.
This course explores the histories, theories, practices and challenges of creative media production. Working across multiple platforms, genres and media, students develop production skills in video, sound and digital media, and enhance their creative innovation in these areas. Students are encouraged to evolve as creative producers of media projects throughout their studies, as well as deepen their understanding and technical proficiency across media production areas. By the end of the course, students have developed a professional portfolio of creative media work.
By focusing on the high-level conceptual thinking and problem-solving practices that lead to the development of innovative, creative and entrepreneurial outcomes, students of the combined degree also gain leading edge capabilities that are highly valued in the globalised world, including dealing with critical and creative thinking, invention, complexity, innovation, future scenario building and entrepreneurship, and the ability to work on their own across disciplines. These creative intelligence competencies enable graduates to navigate in a rapidly changing world.
Career options
Career options include arts and cultural administrator, cinematographer, director, documentary-maker, editor, film producer, freelance media artist, multimedia designer, new media producer, producer, production manager, program commissioning editor, radio producer, scriptwriter, and sound designer.
By being creative thinkers, initiators of new ideas, scenario planners, global strategists, open network designers or sustainable futures innovators within their chosen field of study, graduates maximise the potential of their chosen profession, making them highly sought after graduates with the ability to identify and develop solutions to some of the most complex issues that face their disciplines and society.
Course intended learning outcomes
| | |
| --- | --- |
| 1.1 | Possess a well-developed awareness of professional practice in the context of the communication industries |
| 2.1 | Possess information literacy skills to locate, gather, organise and synthesise information across diverse platforms to inform the understanding of the communication industries |
| 2.2 | Be reflexive critical thinkers and creative practitioners who are intellectually curious, imaginative and innovative; with an ability to evaluate their own and others' work |
| 3.1 | Demonstrate an awareness and knowledge of global contexts and openness to cultural exchange |
| 3.2 | Employ professional skills responsibly and respectfully in a global environment |
| 4.1 | Possess a critical understanding of the importance of Aboriginal and Torres Strait Islander peoples within contemporary Australian politics, history and culture |
| 4.2 | Integrate knowledge of Indigenous issues in professional practices and engage responsibly in communicating with and about Indigenous people and communities |
| 5.1 | Possess the awareness of ethical practice in the personal, political and professional contexts of civil society |
| 5.2 | Possess the skills to behave ethically in personal and professional contexts |
| 6.1 | Possess well-developed skills and proficiencies to communicate and respond effectively and appropriately across different contexts |
| 6.2 | Demonstrate digital literacy and production skills across a range of media and media texts |
| CII.1.1 | Identify and represent the components and processes within complex systems and organise them within frameworks of relationships |
| CII.1.2 | Select, apply and evaluate various techniques and technologies for investigating and interpreting complex systems |
| CII.1.3 | Discern common qualities of complex systems and model their behaviour |
| CII.1.4 | Generate insights from the creative translation of models and patterns across different systems |
| CII.2.1 | Recognise the nature of open, complex, dynamic and networked problems |
| CII.2.2 | Explore the relevance of patterns, frameworks, approaches and methods from different disciplines, professional practices or fields of inquiry for gaining insights into particular problems, proposals, practices, contexts and systems |
| CII.2.3 | Analyse problem situations or contexts from multiple disciplinary or personal perspectives and integrate findings in creative and useful ways |
| CII.2.4 | Test the value of different patterns, frameworks and methods for exploring and addressing complex challenges |
| CII.2.5 | Interrogate and generate ways to create value and evaluate outcomes |
| CII.2.6 | Examine, articulate and appreciate the speculative or actual value of outcomes for different stakeholders, communities or cultures over time |
| CII.3.1 | Communicate, explore, network and negotiate in ways that are inclusive of and mine for ideas from diverse disciplines |
| CII.3.2 | Design, develop and apply appropriate team-based decision making frameworks and participate collaboratively in teams according to proposed intentions |
| CII.3.3 | Use a range of appropriate media, tools, techniques and methods creatively and critically in multi-disciplinary teams to discover, investigate, design, produce and communicate ideas or artefacts |
| CII.3.4 | Articulate often-complex ideas simply, succinctly and persuasively to a diverse team or audience |
| CII.3.5 | Create environments to support inspiration and reflexivity so that inter- and trans-disciplinary practices can develop and thrive |
| CII.3.6 | Recognise problems, challenges and opportunities that require transdisciplinary practices and assemble relevant teams to begin dealing with those problems, challenges and opportunities |
| CII.4.1 | Identify significant issues, challenges or opportunities and assess potential to act creatively on them |
| CII.4.2 | Work within different community, organisational or cultural contexts to design and develop ideas, strategies and practices for betterment |
| CII.4.3 | Make decisions that recognise the humanity of others by engaging ethically and with sensitivity to the values of particular groups, communities, organisations or cultures |
| CII.4.4 | Take a leadership role in identifying and working to address community, organisational or cultural issues, challenges and opportunities through innovation |
| CII.5.1 | Imagine and design initiatives within existing organisational structures (intrapreneurship) or by building a new context (entrepreneurship) |
| CII.5.2 | Explore and articulate the transformation required to create and implement innovation, with sensitivity to the creative destruction that this requires |
| CII.5.3 | Identify required capabilities for realising an idea and create a venture team to achieve the aspirations of a particular innovation |
| CII.5.4 | Communicate confidently and with diplomacy to influence essential stakeholders or decision makers and to achieve impact |
Key
CII = Creative Intelligence and Innovation course intended learning outcomes (CILOs)
Admission requirements
Applicants must have completed an Australian Year 12 qualification, Australian Qualifications Framework Diploma, or equivalent Australian or overseas qualification at the required level.
Admission to the combined degree is on merit according to the admissions policy for the Bachelor of Communication (Media Arts and Production) (C10362).
The English proficiency requirement for international students or local applicants with international qualifications is: Academic IELTS: 6.5 overall with a writing score of 6.0; or TOEFL: paper based: 550-583 overall with TWE of 4.5, internet based: 79-93 overall with a writing score of 21; or AE5: Pass; or PTE: 58-64; or CAE: 176-184.
Eligibility for admission does not guarantee offer of a place.
International students
Visa requirement: To obtain a student visa to study in Australia, international students must enrol full time and on campus. Australian student visa regulations also require international students studying on student visas to complete the course within the standard full-time duration. Students can extend their courses only in exceptional circumstances.
Course duration and attendance
The course is offered on a four-year, full-time basis.
Course structure
Students must complete 240 credit points consisting of 24 credit points of communication core subjects, a 48-credit-point major and potential 48-credit-point second major (subject to application), 24 credit points of cross-disciplinary electives and a 96-credit-point creative intelligence and innovation core. Students who do not meet the requirements to study the second major complete elective subjects.
Industrial training/professional practice
As part of the Bachelor of Communication (Media Arts and Production), students undertake practice-based learning and develop a range of media projects across moving image, sound and digital media. This occurs in every subject in the Media Arts and Production major. Students attend relevant production workshops in the use of cameras and audio and related equipment, as well as video editing, sound editing and digital software and technology. Students develop a creative media production portfolio throughout the major, culminating in the media arts project produced at the end of their studies. They may choose to supplement their learning with professional placements relating to the media arts and production sector. Students may also publicly exhibit their work through regular screenings and events.
In the final year of the Bachelor of Creative Intelligence and Innovation, students can undertake between 6 and 12 credit points of internship (work experience) that relates to innovation within their research, career development or core degree specialisations. For students undertaking 12 credit points of internship, international internships may be negotiated.
This course involves significant industry engagement as part of the learning process. Students may be required to relinquish intellectual property when they opt in to certain industry-related experiences, particularly relating to internships and capstone projects.
Course completion requirements
| | | |
| --- | --- | --- |
| STM91104 Communication core | | 24cp |
| MAJ10047 Media Arts and Production | | 48cp |
| CBK91115 Cross-disciplinary electives | | 24cp |
| CBK91125 Major/Electives | | 48cp |
| STM90839 Core subjects (Creative Intelligence and Innovation) | | 96cp |
| Total | | 240cp |
Course diagram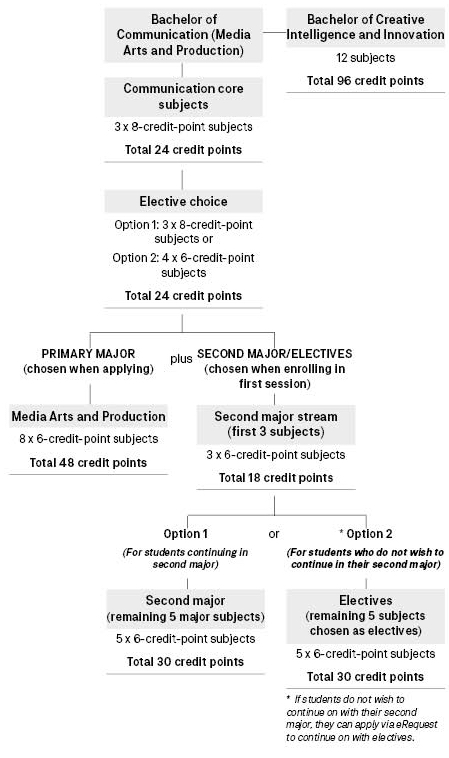 Course program
The following example shows a typical full-time program.
Autumn commencing
Year 1
Autumn session
54000 Citizenship and Communication
8cp
54030 Exploring Media Arts
8cp
Select 8 credit points from the following:
8cp
CBK91127 Stream choices
16cp
July session
81511 Problems to Possibilities
8cp
Spring session
54001 Digital Literacies
8cp
54031 Composing the Real
8cp
Select 8 credit points from the following:
8cp
CBK91127 Stream choices
16cp
Summer session
81512 Creative Practice and Methods
8cp
Year 2
Autumn session
54002 Communicating Difference
8cp
54032 Fictions
8cp
Select 8 credit points from the following:
8cp
CBK91128 Second major
48cp
CBK91119 Electives
32cp
July session
81513 Past, Present, Future of Innovation
8cp
Spring session
54033 Aesthetics
8cp
Select 8 credit points from the following:
8cp
CBK91115 Cross-disciplinary electives
24cp
Select 8 credit points from the following:
8cp
CBK91128 Second major
48cp
CBK91119 Electives
32cp
Summer session
81514 Creativity and Complexity
8cp
Year 3
Autumn session
54034 Media Arts Specialist Modules
8cp
Select 8 credit points from the following:
8cp
CBK91115 Cross-disciplinary electives
24cp
Select 8 credit points from the following:
8cp
CBK91128 Second major
48cp
CBK91119 Electives
32cp
July session
81515 Leading Innovation
8cp
Spring session
54035 Media Arts Project
8cp
Select 8 credit points from the following:
8cp
CBK91115 Cross-disciplinary electives
24cp
Select 8 credit points from the following:
8cp
CBK91128 Second major
48cp
CBK91119 Electives
32cp
Summer session
81516 Initiatives and Entrepreneurship
8cp
Year 4
Autumn session
81531 Industry Innovation Project
12cp
81522 Innovation Internship A
6cp
Select 6 credit points from the following:
6cp
81521 Envisioning Futures
6cp
81528 New Knowledge-making Lab
6cp
Spring session
81524 Professional Practice at the Cutting Edge
6cp
81532 Creative Intelligence Capstone
12cp
Select 6 credit points from the following:
6cp
81525 Innovation Internship B
6cp
81523 Speculative Start-up
6cp
81541 Research Proposal
6cp
Other information
Further information is available from:
UTS Student Centre
telephone 1300 ask UTS (1300 275 887)
or +61 2 9514 1222
Ask UTS