C10310v2 Bachelor of Property Economics
Award(s): Bachelor of Property Economics (BPropEc)UAC code: 602033 (Autumn session)CRICOS code: 079553C
Commonwealth supported place?: Yes
Load credit points: 144
Course EFTSL: 3
Location: City campus
Overview
Course aims
Career options
Innovation and Transdisciplinary program
Course intended learning outcomes
Admission requirements
Inherent (essential) requirements
Assumed knowledge
Recognition of prior learning
Course duration and attendance
Course structure
Course completion requirements
Course diagram
Course program
Professional recognition
Other information
Overview
For students thinking about a career in business, economics or property, the Bachelor of Property Economics provides the edge required to get started in a global industry.
In this degree students learn the specialist knowledge required to enter the property sector, with skills in property valuation, market analysis, investment and development. Their skill set is just as relevant locally as it is internationally.
This degree covers economic, legal and financial disciplines, giving students the flexibility to pursue a variety of career paths. This business knowledge is also transferable, providing options for a transition to other sectors as careers develop.
UTS graduates are highly sought after and have excellent starting salaries: the property industry actively recruits property economics students. Most students are working in the industry by their third year of study.
This job-readiness results from UTS's industry connections: the curriculum was developed in consultation with industry, guest lecturers come from industry, and students work with real-world projects such as Barangaroo, Central Park and Green Square.
The degree structures classes so that students do a mixture of individual and team-based work, mixing theory and practice. This means graduates seamlessly fit into team-based, workplace environments.
Course aims
This course develops a broad base of knowledge of many aspects of the property industry including central concepts of law, economics, valuation, investment and finance, and related fields of property management, construction, development, urban planning and accounting. This provides students with a broad and coherent understanding of property alongside a deeper understanding of valuation and the legal, economic and financial concepts that underpin valuation.
Career options
Career options include property valuer, property and asset manager, property market analyst, property sales and acquisitions, property developer, funds manager, and corporate real estate adviser.
Innovation and Transdisciplinary program
Transdisciplinarity and Innovation at UTS
All UTS students have the opportunity to develop distinctive capabilities around transdisciplinary thinking and innovation through the TD School. Transdisciplinary education at UTS brings together great minds from different disciplines to explore ideas that improve the way we live and work in the world. These offerings are unique to UTS and directly translate to many existing and emerging roles and careers.
Diploma in Innovation
The Diploma in Innovation (C20060) teaches innovation, supports personal transformation and provides the hard skills needed to support the inventors and inventions of the future. Students come out of the Diploma in Innovation, with the hard skills to create and support sectoral and societal transformation. Graduates are able to fluently integrate ideas, across professional disciplines and are inventors of the future.
All UTS undergraduate students (with the exception of students concurrently enrolled in the Bachelor of Creative Intelligence and Innovation) can apply for the Diploma in Innovation upon admission in their chosen undergraduate degree. It is a complete degree program that runs in parallel to any undergraduate degree. The course is offered on a three-year, part-time basis, with subjects running in 3-week long intensive blocks in July, December and February sessions. More information including a link to apply is available at https://dipinn.uts.edu.au.
Transdisciplinary electives program
Transdisciplinary electives broaden students' horizons and supercharge their problem-solving skills, helping them to learn outside, beyond and across their degrees. Students enrolled in an undergraduate course that includes electives can choose to take a transdisciplinary subject (with the exception of students concurrently enrolled in the Bachelor of Creative Intelligence and Innovation). More information about the TD Electives program is available here.
Course intended learning outcomes
| | |
| --- | --- |
| A.1 | Identify ethical issues and apply informed ethical judgements in professional Contexts |
| A.2 | Work effectively in culturally diverse contexts |
| A.3 | Understand Indigenous perspectives and apply legal frameworks relating to land use and ownership |
| C.1 | Effectively apply a variety of communication skills and technologies in professional contexts |
| C.2 | Work effectively in a team in a professional context |
| I.1 | Apply innovative information technologies to built environment issues |
| I.2 | Develop alternative, appropriate creative solutions to built environment issues |
| P.1 | Apply valuation theory and practice in the valuation of property for different purposes |
| P.2 | Analyse data to make investment decisions in various contexts |
| P.3 | Apply economic theory in analysing property markets |
| P.4 | Apply planning principles in various property contexts |
| P.5 | Apply financial principles to property economics issues |
| P.6 | Apply knowledge of law (including Native Title) and regulations in built environment contexts |
| P.7 | Apply knowledge of sustainability and environmental issues in built environment contexts |
| P.8 | Apply construction technology and tender processes in built environment contexts |
| R.1 | Engage in critical and reflective thinking in built environment contexts |
| R.2 | Source, evaluate and use information within defined parameters |
| R.3 | Critically analyse, structure and report the results of research |
Admission requirements
Applicants must have completed an Australian Year 12 qualification, Australian Qualifications Framework Diploma, or equivalent Australian or overseas qualification at the required level.
UTS: Design, Architecture and Building may consider applications based on the results of the Special Tertiary Admissions Test (STAT) if students lack academic qualifications but have extensive professional experience. The STAT is conducted through the Universities Admissions Centre.
Students who have completed a TAFE Diploma in one the following areas will receive five (5) adjustment points: Valuation/Property Services/Applied Commerce/Business/Conservation and Land Management.
Students must refer to the inherent requirements for all degrees offered by Design and Architecture in the Faculty of Design, Architecture and Building.
The English proficiency requirement for international students or local applicants with international qualifications is: Academic IELTS: 6.5 overall with a writing score of 6.0; or TOEFL: paper based: 550-583 overall with TWE of 4.5, internet based: 79-93 overall with a writing score of 21; or AE5: Pass; or PTE: 58-64 with a writing score of 50; or C1A/C2P: 176-184 with a writing score of 169.
Eligibility for admission does not guarantee offer of a place.
International students
Visa requirement: To obtain a student visa to study in Australia, international students must enrol full time and on campus. Australian student visa regulations also require international students studying on student visas to complete the course within the standard full-time duration. Students can extend their courses only in exceptional circumstances.
Inherent (essential) requirements
Inherent (essential) requirements are academic and non-academic requirements that are essential to the successful completion of a course.
Prospective and current students should carefully read the Inherent (Essential) Requirements Statement below and consider whether they might experience challenges in successfully completing this course. This Statement should be read in conjunction with the UTS Student Rules.
Prospective or current student concerned about their ability to meet these requirements should discuss their concerns with the Academic Liaison Officer in their faculty or school and/or UTS Accessibility Service on 9514 1177 or at accessibility@uts.edu.au.
UTS will make reasonable adjustments to teaching and learning, assessment, professional experiences, course related work experience and other course activities to facilitate maximum participation by students with disabilities, carer responsibilities, and religious or cultural obligations in their courses.
For course specific information see the Faculty of Design, Architecture and Building Inherent (Essential) Requirements Statement.
Assumed knowledge
Mathematics and any two units of English.
Recognition of prior learning
Students with prior academic or industrial experience are considered for recognition of prior learning (RPL) and may be given the opportunity to tailor their program of study in line with subjects completed previously at other institutions.
Course duration and attendance
The course is offered on a three-year, full-time or equivalent part-time basis.
Course structure
The course comprises a total of 144 credit points made up of 120 credit points of core subjects and 24 credit points of electives.
Industrial training/professional practice
In addition to attending classes, students are encouraged to gain practical experience in appropriate professional or industrial organisations. Full-time students undertake practical studies as part of the program included in core subjects.
Course completion requirements
| | | |
| --- | --- | --- |
| STM90820 Core subjects (Property Economics) | | 120cp |
| CBK92221 Sub-major/Options | | 24cp |
| Total | | 144cp |
Course diagram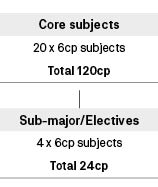 Course program
The typical course program is shown below.
Autumn commencing, full time
Year 1
Autumn session
16467 Built Environment Law and Ethics
6cp
16466 Built Environment Economics
6cp
16631 Construction and Development Process
6cp
16234 Property Valuation
6cp
Spring session
16632 Built Environment Law and Professional Practice
6cp
16633 Microeconomics for Property
6cp
16643 Property Market Research and Analysis
6cp
16264 Property Accounting and Financial Management
6cp
Year 2
Autumn session
16634 Financial Analysis
6cp
16235 Urban Economics
6cp
16233 Urban Planning Process
6cp
Select 6 credit points of electives
6cp
Spring session
16231 Property Management
6cp
16641 Property Rights and Landlord Tenant Law
6cp
16642 Property Investment and Valuation
6cp
Select 6 credit points of electives
6cp
Year 3
Autumn session
16655 Property Finance
6cp
16333 Statutory Valuation and Compensation
6cp
Select one of the following:
6cp
16656 Sustainable Construction and Development Management
6cp
16657 Property Investment and Portfolio Management
6cp
Select 6 credit points of electives
6cp
Spring session
16232 Economics for Policy Analysis
6cp
16237 Property Taxation
6cp
16658 Capstone Project: Property Development Analysis
6cp
Select 6 credit points of electives
6cp
Professional recognition
Australian Property Institute (API); Royal Institution of Chartered Surveyors (RICS).
Other information
Further information is available from:
UTS Student Centre
telephone 1300 ask UTS (1300 275 887)
or +61 2 9514 1222
Ask UTS
UTS: Design, Architecture and Building