C10273v3 Bachelor of Design in Animation
Award(s): Bachelor of Design in Animation (BDesign)UAC code: 602035 (Autumn session)CRICOS code: 074703A
Commonwealth supported place?: Yes
Load credit points: 144
Course EFTSL: 3
Location: City campus
Notes
This course version is for students commencing in 2020 and onwards.
Overview
Course aims
Career options
Course intended learning outcomes
Admission requirements
Applications
Assumed knowledge
Course duration and attendance
Course structure
Course completion requirements
Course diagram
Course program
Honours
Other information
Overview
The Bachelor of Design in Animation gives students with a passion for visual arts, drawing and storytelling the knowledge and hands-on experience required to create animation work that stands out in a global industry.
Graduates from this degree are image-makers, critical thinkers and storytellers in equal measure. They are equipped to be industry leaders with an ability to develop, pitch and defend ideas, creating original content for TV, film, advertising and other media.
Students learn how to observe the world around them, drawing directly from life to gain inspiration for characters and stories. They discover how to think creatively and develop ideas through multiple stages, focusing on character development, narrative and performance. They also learn fundamental 2D and 3D animation skills to bring their stories to life.
At UTS, students also benefit from outstanding industry connections. Across the degree, students have the opportunity to work with live projects, such as VIVID or collaborations with the Australia Piano Quartet. UTS also has strong relationships with leading industry players such as Flying Bark Productions and Animal Logic.
The academic team understands that teamwork is at the heart of the animation industry. A studio-led approach creates a high-intensity environment where students learn how to work with their peers in a professional and collaborative atmosphere.
Course aims
This course gives students skills and an outlook that extend beyond the university, and cultivates a collaborative and global vision of design. As part of the ongoing development of key industry innovators, the course aims to create new approaches to 2D and 3D animation and VFX design, enabling graduates to better develop, and adapt and respond to a range of creative partnerships and collaborations.
Students develop an understanding of their individual design language and theoretical position in relation to historic and contemporary contexts.
Career options
This industry-focused course opens up animation careers in film, television and multimedia. Career options include director, animator, scriptwriter, concept artist, character designer, storyboard artist, producer, modeller, rigger, VFX artist, editor and compositor.
Course intended learning outcomes
| | |
| --- | --- |
| A.1 | Ability to take autonomous decisions and responsibility |
| A.2 | Ability to position work within a wider social and cultural context |
| A.3 | Ability to recognise and appreciate cultural diversity, including multicultural, gender and Indigenous perspectives |
| C.1 | Ability to work cooperatively as part of a team, negotiate differences and take a leadership role when required |
| C.2 | Ability to communicate ideas clearly and effectively in verbal and visual presentations |
| C.3 | Ability to contribute positively to critique and feedback process |
| I.1 | Ability to understand and challenge disciplinary conventions and practices |
| I.2 | Ability to develop unique aesthetic and movement languages for animation |
| I.3 | Ability to recognise the creative possibilities for animation technologies and materials, to experiment, to take risks, and contribute alternative directions |
| P.1 | Ability to understand and apply fundamental animation principles |
| P.2 | Ability to demonstrate a high level of craft and production values across all methods of animation process |
| P.3 | Ability to work with production complexity, to breakdown, organise, manage, delegate, define conventions and archive projects |
| R.1 | Ability to undertake primary and secondary research, exploring a wide range of visual and textual materials, and connect research process to final outcomes |
| R.2 | Ability to contextualise work within current and historical animation practice and theory |
| R.3 | Ability to iterate, reflect, edit and engage in self-critique and critical thinking |
Admission requirements
Applicants must have completed an Australian Year 12 qualification, Australian Qualifications Framework Diploma, or equivalent Australian or overseas qualification at the required level.
UTS: Design, Architecture and Building may consider applications based on the results of the Special Tertiary Admissions Test (STAT) if students lack academic qualifications but have extensive professional experience. The STAT is conducted through the Universities Admissions Centre.
Students must refer to the inherent requirements for all degrees offered by Design and Architecture in the Faculty of Design, Architecture and Building.
Non-current school leavers are selected on the basis of academic merit or on the basis of portfolio and interview rank.
Students must refer to the portfolio eligibility for the faculty's consideration in order to get a place.
The English proficiency requirement for international students or local applicants with international qualifications is: Academic IELTS: 6.5 overall with a writing score of 6.0; or TOEFL: paper based: 550-583 overall with TWE of 4.5, internet based: 79-93 overall with a writing score of 21; or AE5: Pass; or PTE: 58-64; or CAE: 176-184.
Eligibility for admission does not guarantee offer of a place.
International students
Visa requirement: To obtain a student visa to study in Australia, international students must enrol full time and on campus. Australian student visa regulations also require international students studying on student visas to complete the course within the standard full-time duration. Students can extend their courses only in exceptional circumstances.
Applications
International students
International students (excluding those studying in an Australian high school) must submit an application to UTS International (in person, by mail or online) or through an accredited UTS representative.
International students with an ATAR up to five points below the minimum cut-off must submit the following material:
a six-page digital portfolio in PDF format (landscape) of their work; this may include images, animation or video (max. size 5MB)
one of the pages must be a 150–200-word written submission that selects and identifies one of the submitted pieces of work, and addresses the aim of the work and why it succeeded (to enable this PDF to be easily viewed, text must be supplied in 16-point Helvetica font, with 1.5 line spacing).
The faculty reserves the right to request a portfolio from applicants.
Assumed knowledge
Any two units of English.
Design and Technology, Visual Arts are recommended.
Course duration and attendance
The course is offered on a three-year, full-time or part-time equivalent basis.
Course structure
Students must complete 144 credit points made up of 120 credit points of core subjects and 24 credit points of electives.
Course completion requirements
Course diagram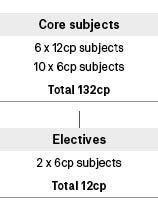 Course program
A typical full-time program is shown below.
Autumn commencing, full time
Year 1
Autumn session
82120 Animation Studio: Foundations in Animation Language
12cp
82121 Context: 2D Animation Introduction
6cp
85502 Researching Design Histories
6cp
Spring session
82220 Animation Studio: Foundations in Animation Design
12cp
82221 Context: Introduction to 3D and 2D Hybrid Animation
6cp
85503 Thinking Through Design
6cp
Year 2
Autumn session
82320 Animation Studio: Narrative Investigations
12cp
82321 Context: Animation Character
6cp
Select 6 credit points of options
6cp
Spring session
82420 Context: Animation Character Rigging Advanced
6cp
88211 Animation Studio: Narrative Experimentations
12cp
85202 Design Futuring
6cp
Year 3
Autumn session
88212 Animation Studio: Animation Practice
12cp
Select 6 credit points from the following:
6cp
STM91429 2D Context
12cp
STM91430 3D Context
12cp
85302 Social Media Cultures
6cp
Spring session
82620 Animation Studio: Animation Industry Project
12cp
Select 6 credit points of options
6cp
Select 6 credit points from the following:
6cp
STM91429 2D Context
12cp
STM91430 3D Context
12cp
Honours
The Bachelor of Design (Honours) in Animation (C09056) is available to meritorious students with an additional one year of full-time study.
Other information
Further information is available from the UTS Student Centre on:
telephone 1300 ask UTS (1300 275 887)
or +61 2 9514 1222
Ask UTS
UTS: Design, Architecture and Building