C10265v5 Bachelor of Design in Photography
Award(s): Bachelor of Design in Photography (BDesign)UAC code: 602065 (Autumn session)CRICOS code: 093240C
Commonwealth supported place?: Yes
Load credit points: 144
Course EFTSL: 3
Location: City campus
Notes
This course version is for students commencing in 2020 and onwards.
Overview
Course aims
Career options
Course intended learning outcomes
Admission requirements
Applications
Assumed knowledge
Course duration and attendance
Course structure
Course completion requirements
Course diagram
Course program
Honours
Other information
Overview
With a Bachelor of Design in Photography, students become fluent in creating studio-based images, including product and fashion photography, news and documentary, portraiture and the body, as well as architecture and landscape photography.
With the rapid evolution of the photographic medium due to digital and mobile technologies, images are situated in particular contexts, whether social, cultural or political. In design studios students learn how to recognise these contexts, and use and reinterpret them for their own creative work.
Under the guidance of award-winning photographers and researchers, students develop knowledge and skills in traditional and expanded photography, screen-based media, video and moving image. Students have access to state-of-the-art facilities, including darkrooms, specialist colour-managed computer labs and fully equipped photographic studios. Equipment is constantly upgraded to ensure that students only work with the best and latest devices.
Course aims
Students learn the collaborative skills required to work in a creative team and develop critical thinking skills to engage with social, cultural, technological and ethical contexts of image making.
Global subjects introduce students to the world's leading photography organisations, while the public lecture program brings industry leaders on campus. With the supported supervised placement program, students also gain internship experience with leading photographers and industry organisations.
Career options
There are many career options for graduates across a range of sectors, such as photography for fashion, journalism, architecture or marketing. Some graduates start their careers as photography assistants for professional photographers, while others move into freelance work.
Generally, graduates can expect to work in a number of capacities, including photo agencies, advertising, and cultural production, as a freelancer working for various clients, a fine arts practitioner, or an editorial photographer for news outlets, magazines and digital media. Many graduates combine a number of these careers.
Course intended learning outcomes
| | |
| --- | --- |
| A.1 | Ability to take autonomous responsibility for actions and decisions |
| A.2 | Ability to establish and develop an informed and ethical position toward social and cultural issues |
| A.3 | Ability to constructively engage with subject learning activities |
| A.4 | Ability to recognise and appreciate cultural diversit,y including Indigenous perspectives |
| C.1 | Ability to work cooperatively and professionally as part of a team, initiate partnerships with others, take a leadership role when required, and constructively contribute to peer learning |
| C.2 | Ability to communicate ideas effectively in a variety of ways, including oral, written and visual |
| C.3 | Ability to engage in and contribute to studio discussion |
| I.1 | Ability to develop innovative approaches |
| I.2 | Ability to understand and challenge disciplinary conventions |
| I.3 | Ability to initiate and execute meaningful self-directed iterative processes |
| I.4 | Ability to produce inspirational responses that exemplify integration of learning experiences |
| I.5 | Ability to innovatively use photographic and media technologies |
| P.1 | Ability to recognise and engage in a diverse range of technical and practical contexts |
| P.2 | Ability to apply relevant digital and/or analogue techniques and technologies to image-based practice |
| P.3 | Ability to develop technical skills in photography and situated media |
| P.4 | Ability to demonstrate knowledge of current image-based practice |
| P.5 | Ability to position work within an extended disciplinary context |
| R.1 | Ability to source, evaluate and utilise appropriate academic and professional references |
| R.2 | Ability to independently select and apply appropriate research methodologies to carry out investigative study |
| R.3 | Ability to analyse, synthesise and formulate complex ideas, arguments and rationales and use initiative to explore alternatives |
| R.4 | Ability to demonstrate knowledge of photographic history and theory and to place creative practice within a contextual framework |
| R.5 | Ability to reflect and engage in self-critique and critical thinking |
Admission requirements
Applicants must have completed an Australian Year 12 qualification, Australian Qualifications Framework Diploma, or equivalent Australian or overseas qualification at the required level.
UTS: Design, Architecture and Building may consider applications based on the results of the Special Tertiary Admissions Test (STAT) if students lack academic qualifications but have extensive professional experience. The STAT is conducted through the Universities Admissions Centre.
Students must refer to the inherent requirements for all degrees offered by Design and Architecture in the Faculty of Design, Architecture and Building.
Non-current school leavers are selected on the basis of academic merit or on the basis of portfolio and interview rank.
Students must refer to the portfolio eligibility for the faculty's consideration in order to get a place.
The English proficiency requirement for international students or local applicants with international qualifications is: Academic IELTS: 6.5 overall with a writing score of 6.0; or TOEFL: paper based: 550-583 overall with TWE of 4.5, internet based: 79-93 overall with a writing score of 21; or AE5: Pass; or PTE: 58-64; or CAE: 176-184.
Eligibility for admission does not guarantee offer of a place.
International students
Visa requirement: To obtain a student visa to study in Australia, international students must enrol full time and on campus. Australian student visa regulations also require international students studying on student visas to complete the course within the standard full-time duration. Students can extend their courses only in exceptional circumstances.
Applications
International students
International students (excluding those studying in an Australian high school) must submit an application to UTS International (in person, by mail or online) or through an accredited UTS representative.
International students with an ATAR up to five points below the minimum cut-off must submit the following material:
a six-page digital portfolio in PDF format (landscape) of their work; this may include images, animation or video (max. size 5MB)
one of the pages must be a 150–200-word written submission that selects and identifies one of the submitted pieces of work, and addresses the aim of the work and why it succeeded (to enable this PDF to be easily viewed, text must be supplied in 16-point Helvetica font, with 1.5 line spacing).
The faculty reserves the right to request a portfolio from applicants.
Assumed knowledge
Any two units of English.
Design and Technology, Visual Arts are recommended.
Course duration and attendance
The course is offered on a three-year, full-time basis.
Course structure
Students must complete 144 credit points made up of 108 credit points of core subjects (photography), 24cp core subjects (design studies) and 12 credit points of electives.
Course completion requirements
Course diagram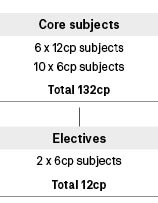 Course program
A typical program is shown below.
Autumn commencing, full time
Year 1
Autumn session
80027 Photographic History and Theory
6cp
80065 Critical Image Studio: Image Activism and Documentary Practice
12cp
85503 Thinking Through Design
6cp
Spring session
80037 Critical Approaches to Photography
6cp
85502 Researching Design Histories
6cp
80047 Critical Image Studio: Image Ethics and Portraiture
12cp
Year 2
Autumn session
80066 Expanded Image Studio: Post Photography
12cp
80067 Photography Guest Lecture Program
6cp
Select 6 credit points of options
6cp
Spring session
80218 Expanded Image Studio: The Moving Image
12cp
80035 Photography and the Body
6cp
85202 Design Futuring
6cp
Year 3
Autumn session
80057 Independent Project: Emerging Image Practices
12cp
80068 Professional Studies: Industry Placement and Independent Practice
6cp
85302 Social Media Cultures
6cp
Spring session
80031 Independent Project: Locating the Image
12cp
80033 Professional Studies: Curating the Image
6cp
Select 6 credit points of options
6cp
Honours
The Bachelor of Design (Honours) in Photography (C09052) is available to meritorious students with an additional one year of full-time study.
Other information
Further information is available from:
UTS Student Centre
telephone 1300 ask UTS (1300 275 887)
or +61 2 9514 1222
Ask UTS
UTS: Design, Architecture and Building