C09121v1 Bachelor of Forensic Science Bachelor of Laws (Honours)
Award(s): Bachelor of Forensic Science (BForSc)
Bachelor of Laws (Honours) (LLB(Hons))
Commonwealth supported place?: Yes
Load credit points: 240
Course EFTSL: 5
Location: City campus
Notes
This is an exit-only course. There is no direct admission to it. Current UTS students may be able to submit an Internal Course Transfer (Graduating) application to exit with this course. Check with your faculty's student centre.
Overview
Career options
Course intended learning outcomes
Assumed knowledge
Course duration and attendance
Course structure
Course completion requirements
Course diagram
Course program
Levels of award
Honours
Professional recognition
Other information
Overview
The Bachelor of Forensic Science Bachelor of Laws is offered jointly by UTS: Law and UTS: Science.
The Bachelor of Forensic Science prepares students for professional and specialist work in the discipline of forensic science. Students build a solid foundation of skills and knowledge in the enabling sciences, complemented by an in-depth understanding of forensic science in the context of their chosen discipline. Development of critical thinking and problem-solving skills is a focus of the degree, with graduates in high demand from a diverse range of industries and organisations.
The program provides full-time study for students wishing to obtain a professional legal qualification that satisfies the academic requirements only for admission as a lawyer together with forensic science.
This course provides students with a thorough understanding of how forensic science can solve and prevent crime. This is a hands-on course using world-class facilities that are modelled on operational laboratories.
Students can choose from four majors: biology, chemistry, crime scene investigation, and digital forensics. The course is well regarded, with strong links to industries such as the federal and state police services, national and international forensic institutions, and government laboratories.
Career options
Career options include positions in the police service, state and federal law enforcement agencies, government and private forensic or drug detection laboratories, customs, quarantine services, environmental protection agencies, pharmaceutical, chemical and analytical industries, DNA testing laboratories, medical diagnostic laboratories, hospitals or corporate multinationals providing forensic, medical or research services, digital forensic laboratories, scene of crime officers.
Course intended learning outcomes
| | |
| --- | --- |
| LAW.1.1 | A coherent understanding of fundamental areas of legal knowledge, including: the Australian legal system, international and comparative contexts, theoretical and technical knowledge; the broader contexts within which legal issues arise and the law operates, including cultural awareness, social justice and policy; and the principles and values of justice and ethical practices in lawyers' roles |
| LAW.2.1 | A capacity to value and promote honesty, integrity, accountability, public service and ethical standards, including: an understanding of approaches to ethical decision-making and professional responsibility; and an ability to recognise, reflect upon and respond to ethical issues likely to arise in professional contexts in ways that evidence professional judgment, promote justice and serve the community |
| LAW.3.1 | A capacity to think critically, strategically and creatively, including the ability to: identify and articulate legal issues in context; apply reasoning and research to generate appropriate responses; engage in critical analysis and make a reasoned choice among alternatives; and think creatively in approaching legal issues and generating appropriate responses |
| LAW.4.1 | Well-developed cognitive and practical skills necessary to identify, research, evaluate and synthesise relevant factual, legal and policy issues |
| LAW.5.1 | Effective and appropriate communication skills, including: highly effective use of the English language to convey legal ideas and views to different audiences and environments; an ability to communicate to inform, analyse, report and persuade; an ability to strategically select an appropriate medium and message; an ability to assess how messages are received and alter communication strategies accordingly; an ability to be responsive and adaptive to the perspectives of collaborators, clients, counter parties and others; and an ability to generate a sustained and logical argument |
| LAW.6.1 | The ability to implement appropriate self-management and lifelong learning strategies, including: an ability to undertake and initiate self-directed work and learning; well developed judgment and responsibility as a legal professional in a broader social context; the ability to support personal and professional development by reflecting on and assessing their own capabilities, wellbeing and performance, by making use of feedback as appropriate, by identifying and accessing appropriate resources and assistance, and by making use of resources and support in developing resilience; a capacity to adapt to and embrace change and a commitment to ongoing learning |
| SCI.1.1 | Demonstrate knowledge of forensic science practice, collection of traces and integration of the derived information with the security and legal system, including the use of current and emerging techniques in forensic science |
| SCI.1.2 | Apply the forensic investigative process of crime scene investigation, imaging of traces, laboratory analysis, interpretation and presentation of evidence |
| SCI.1.3 | Apply the principles of forensic intelligence for the linking of forensic traces |
| SCI.1.4 | Demonstrate knowledge of core areas of biology (microbiology, molecular biology, next generation DNA sequencing, biochemistry), and how they relate to the analysis and interpretation of forensic science traces |
| SCI.2.1 | Apply the scientific method, formulate hypotheses from chemistry or forensic-based questions, and experimental methods to test these hypotheses and incorporate results in scientifically defensible arguments |
| SCI.2.2 | Develop investigative and problem-solving skills through realistic forensic case scenarios, case studies laboratory exercises |
| SCI.3.1 | Collect, analyse, interpret and report forensic science traces using scientific instrumentation and procedures that translate directly to professional practice, both individually and in teams |
| SCI.3.2 | Demonstrate time and project management skills through the investigation of forensic science scenarios and short research projects |
| SCI.3.3 | Apply your understanding of professional ethics, quality management and legal considerations to the handling of practical scenarios and classroom discussions |
| SCI.4.1 | Independently research, assess the reliability of, utilise and apply new information and techniques to solve problems related to forensic science |
| SCI.4.2 | Collaborate in peer learning through discussion, demonstration of laboratory techniques, reflection and implementation of feedback |
| SCI.5.1 | Understand role of forensic science within law enforcement, the legal system and the wider community |
| SCI.5.2 | Understanding of appropriate workplace health and safety practices, particularly in a laboratory setting |
| SCI.6.1 | Use various methods to document and communicate crime scene observations, experimental results, ideas and expert opinion |
| SCI.6.2 | Demonstrate effective written and oral communication skills for expert, scientific and non-scientific audiences. |
| SCI.7.1 | Apply theoretical knowledge and available resources to solve unfamiliar and complex case-based scenarios |
| SCI.7.2 | Proactively anticipate and apply creative solutions to problem |
| SCI.7.3 | Self-expression in a scientific context is developed throughout the course, as students develop their analytical skills, culminating in research projects in the final stages of the degree |
Key
LAW = Law course intended learning outcomes (CILOs)
SCI = Science course intended learning outcomes (CILOs)
Assumed knowledge
English proficiency; Mathematics; and Science.
Course duration and attendance
The course duration is five years of full-time study.
The law component requires attendance of 12–15 hours of face-to-face classes a week; timetable constraints may require attendance at daytime and evening classes. The science component requires attendance of approximately 20–22 hours a week on campus.
Course structure
The course comprises a total of 240 credit points and allows students to graduate with the separate degrees of Bachelor of Forensic Science (BForSc) and Bachelor of Laws (LLB). The study components for course completion are as follows.
The law component of 144 credit points is made up of:
108 credit points of compulsory core law subjects
a 6-credit-point legal theory option
a 30-credit-point law option, which includes either:

18 credit points of law options, a 6-credit-point research methodology subject, a 6-credit-point research thesis subject, or
a 6-credit-point technology law, policy and ethics (Capstone 1) subject, a 6-credit-point applied project in law, innovation and technology (Capstone 2) subject, a 6-credit-point research methodology subject, a 6-credit-point research thesis subject, and either a disruptive technologies and the law subject or a local internship.
The forensic science component comprises 42 credit points of core subjects and a 54-credit-point major, taken from one of the four specified majors representing different forensic science disciplines.
Industrial training/professional practice
To practise as a lawyer in NSW, students need to successfully complete an accredited legal academic qualification (e.g. Bachelor of Laws) and an accredited course of practical legal training (PLT), which UTS offers through its PLT program.
Students enrolled in this course may complete their practical legal training by undertaking a postgraduate course in PLT, such as the Graduate Certificate in Professional Legal Practice (C11232).
Course completion requirements
| | | |
| --- | --- | --- |
| STM91181 Core subjects (Forensic Science Law) | | 42cp |
| CBK91230 Major choice (Forensic Science Law) | | 54cp |
| STM91052 Law stream (Honours) | | 144cp |
| Total | | 240cp |
Course diagram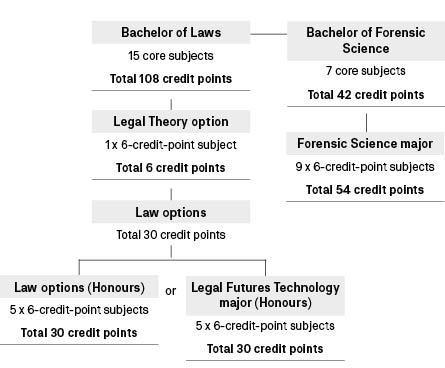 Course program
The standard program shown is for a full-time student with law options.
All options shown are law options and are to be drawn from those on offer in CBK91100.
Students wishing to study the new major MAJ09444 Legal Futures and Technology need to study 76106 Technology Law, Policy and Ethics (Capstone 1) in the Autumn session of their final year and 76107 Applied Project in Law, Innovation and Technology (Capstone 2) in their final Spring session.
Autumn commencing, full time
Year 1
Autumn session
70102 Foundations of Law
8cp
70103 Ethics Law and Justice
6cp
65242 Principles of Forensic Science
6cp
65111 Chemistry 1
6cp
Spring session
35255 Forensic Statistics
6cp
70311 Torts
8cp
70114 Criminal Law and Procedure
8cp
Summer session
65212 Chemistry 2
6cp
Year 2
Autumn session
70211 Contracts
8cp
91161 Cell Biology and Genetics
6cp
65342 Crime Scene Investigation
6cp
33190 Mathematical Modelling for Science
6cp
Spring session
70616 Australian Constitutional Law
8cp
70327 Introduction to Property and Commercial Law
6cp
70104 Civil Practice
6cp
65312 Forensic Imaging
6cp
Year 3
Autumn session
70317 Real Property
8cp
71116 Remedies
6cp
91314 General Microbiology
6cp
Spring session
70517 Equity and Trusts
8cp
70617 Administrative Law
8cp
91132 Molecular Biology 1
6cp
Year 4
Autumn session
70417 Corporate Law
8cp
70109 Evidence
6cp
65316 Criminalistics
6cp
Spring session
91137 DNA Profiling
6cp
65313 Forensic Intelligence
6cp
70108 Public International Law
6cp
Select 6 credit points from the following:
6cp
76008 Jurisprudence
6cp
76033 Animal Law and Policy in Australia
6cp
76057 Judgment and the Rule of Law
6cp
76081 Gender and Law
6cp
78039 Wickedness and Vice
6cp
76902 Law and Literature
6cp
76012 Criminology
6cp
76092 Advanced Property
6cp
76068 Indigenous Peoples and the Law
6cp
Year 5
Autumn session
Select 18 credit points of options
18cp
76090 Research Methodology
6cp
Spring session
76040 Research Thesis
6cp
65314 Complex Cases
6cp
65318 Forensic Genotyping Technologies
6cp
Select 6 credit points from the following:
6cp
65319 Biological Criminalistics
6cp
65320 Forensic Genetics
6cp
91138 Investigation of Human Remains
6cp
91140 Bionanotechnology
6cp
91330 Epidemiology and Public Health Microbiology
6cp
91400 Human Anatomy and Physiology
6cp
Levels of award
The Bachelor of Laws (Honours) may be awarded with first or second class honours, which does not require an additional honours year. Honours candidates must complete 76090 Research Methodology and 76040 Research Thesis within the course. The rules concerning the Bachelor of Laws (Honours) can be found in undergraduate course information.
Honours
The Bachelor of Forensic Science (Honours) (C09100) is available to eligible students from 2020 with an additional one year of full-time study.
Professional recognition
This course satisfies the requirements for admission to the Supreme Court of NSW as a lawyer, provided students complete a practical legal training program, such as the Graduate Certificate in Professional Legal Practice (C11232).
Graduates of the Bachelor of Forensic Science are eligible for membership of the Royal Australian Chemical Institute and the Australian and New Zealand Forensic Science Society.
Other information
Further information is available from:
UTS Student Centre
telephone 1300 ask UTS (1300 275 887)
or +61 2 9514 1222
Ask UTS