C09120v2 Bachelor of Economics Bachelor of Laws (Honours)
Award(s): Bachelor of Economics (BEcon)
Bachelor of Laws (Honours) (LLB(Hons))
Commonwealth supported place?: Yes
Load credit points: 240
Course EFTSL: 5
Location: City campus
Notes
This is an exit-only course. There is no direct admission to it. Current UTS students may be able to submit an Internal Course Transfer (Graduating) application to exit with this course. See the Course transfer page for further details.
Overview
Career options
Course intended learning outcomes
Inherent (essential) requirements
Assumed knowledge
Course duration and attendance
Course structure
Course completion requirements
Course diagram
Course program
Levels of award
Professional recognition
Other information
Overview
This combined program is offered jointly by UTS Law and UTS Business. One of the most popular combined law degrees, this course brings together foundational understanding of law and how institutional rules and incentives shape economic outcomes as well as real-world experience to make students work-ready upon graduation.
Honours relates to the law component only and students must successfully complete both of the research subjects: 76090 Research Methodology and 76040 Research Thesis. Strong research skills are valued highly in contemporary professional practice.
The degree seeks to provide students with the knowledge, competencies and values necessary to develop critical, analytical and evaluative skills essential for a dynamic and rewarding career in economics and law.
The program provides full-time study for students wishing to obtain a professional legal qualification that satisfies the academic requirements only for admission as a lawyer.
Students have the opportunity to engage in deeper study of the law by studying 76090 Research Methodology and undertaking 76040 Research Thesis. This course can be a pathway to higher degree research programs.
Career options
Career options include legal adviser within a government department, lawyer in corporate and commercial sector, mergers and acquisitions, property, and intellectual property, economics, industry, consulting, industrial relations, international relations, media and environmental studies.
Course intended learning outcomes
BUS.1.1
Critically analyse economic problems in Australian and global society using and justifying appropriate economic concepts and frameworks.
BUS.2.1
Communicate information clearly in a form appropriate for its audience.
BUS.2.2
Demonstrate ability to work independently and with others as a member of a team to achieve an agreed goal.
BUS.3.1
Analyse and discuss the intended and unintended effects of economic decisions on social welfare, equity, the environment and Indigenous peoples.
BUS.4.1
Combine economic analysis, data and econometric techniques to address typical complex problems faced by economists in diverse work environments.
LAW.1.1
A coherent and advanced understanding of fundamental areas of legal knowledge including:
a. The Australian colonial and post-colonial legal system, international and comparative contexts, theoretical and technical knowledge;
b. The broader contexts within which legal issues arise and the law operates including cultural awareness, social justice and policy;
c. The impact of Anglo-Australian laws on Indigenous peoples, including their historical origins in the process of colonisation and ongoing impact;
d. The principles and values of justice and ethical practices in lawyers' roles; and
e. Advanced theoretical and technical knowledge of underlying legal principles and concepts in one or more areas of practice or inquiry.
LAW.2.1
A capacity to value and promote honesty, integrity, accountability, public service and ethical standards including:
a. An understanding of approaches to ethical decision making and professional responsibility;
b. An ability to recognise, reflect upon and respond to ethical issues likely to arise in professional contexts in ways that evidence professional judgment, promote justice and serve the community; and
An ability to reflect on and engage constructively with diversity in practice.
LAW.3.1
An advanced capacity to think critically, strategically and creatively, including the ability to:
a. Identify and articulate legal issues in context, including the skill of critical reading and writing;
b. Apply reasoning and research to generate appropriate responses to sometimes complex legal problems;
c. Engage in critical analysis and make a reasoned choice amongst alternatives; and
d. Think creatively in approaching legal issues and generating appropriate responses.
LAW.4.1
Well-developed cognitive and practical skills necessary to identify, research, evaluate and synthesise relevant factual, legal and policy issues; advanced knowledge of legal research principles and different methodologies, and technical and planning skills to design and apply research to a significant scholarly piece of work.
LAW.5.1
Effective and appropriate communication skills including:
a. Highly effective use of the English language to convey legal ideas and views to different and diverse audiences and environments;
b. An ability to communicate to inform, analyse, report and persuade;
c. An ability to strategically select an appropriate medium and message;
d. An ability to assess how messages are received and alter communication strategies accordingly;
e. An ability to be responsive and adaptive to the perspectives of collaborators, clients, counter parties and others; and
f. An ability to communicate a clear and coherent exposition of legal research and scholarship orally and in writing.
LAW.6.1
Effective and appropriate collaboration skills in working together to achieve a common goal in a group learning environment or the workplace including:
a. An ability to give and receive feedback;
b. Appropriate professional and interpersonal skills in working collaboratively;
c. A capacity to develop strategies to successfully negotiate group challenges; and
d. An ability to be responsive and adaptive to the perspectives of collaborators, clients, counter parties and others.
LAW.7.1
The capacity to work with Indigenous peoples in a professional context;
a. To respect, recognise and advocate for Indigenous strengths and self-determination;
b. To acknowledge and respect Indigenous Knowledges;
c. To understand the impact of colonisation, specifically historical and ongoing racism and the economic impact of dispossession resulting in social and economic exclusion, and
d. To identify and challenge the deficit narratives and biases of Anglo-Australian laws towards Indigenous Australians.
LAW.8.1
The ability to implement appropriate self-management and lifelong learning strategies including:
a. An ability to undertake and initiate self-directed work and learning, including authorship of a significant piece of work;
b. Well-developed judgment and responsibility as a legal professional in a broader social context;
c. The ability to support personal and professional development by:
I. Reflecting on and assessing their own capabilities, wellbeing and performance;
II. Making use of feedback as appropriate;
III. Identifying and accessing appropriate resources and assistance;
IV. Making use of resources and support in developing resilience; and
d. A capacity to adapt to and embrace change and a commitment to ongoing learning.
Key
LAW = Law course intended learning outcomes (CILOs)
BUS = Business course intended learning outcomes (CILOs)
Inherent (essential) requirements
Inherent (essential) requirements are academic and non-academic requirements that are essential to the successful completion of a course.
Prospective and current students should carefully read the Inherent (Essential) Requirements Statement below and consider whether they might experience challenges in successfully completing this course. This Statement should be read in conjunction with the UTS Student Rules.
Prospective or current student concerned about their ability to meet these requirements should discuss their concerns with the Academic Liaison Officer in their faculty or school and/or UTS Accessibility Service on 9514 1177 or at accessibility@uts.edu.au.
UTS will make reasonable adjustments to teaching and learning, assessment, professional experiences, course related work experience and other course activities to facilitate maximum participation by students with disabilities, carer responsibilities, and religious or cultural obligations in their courses.
For course specific information see the Faculty of Law Inherent (Essential) Requirements Statement.
Assumed knowledge
Proficiency in English and mathematics.
Course duration and attendance
The course duration is five years of full-time study. The law component requires attendance of 12–15 hours a week and timetable constraints may require attendance at both daytime and evening classes.
Course structure
The course comprises a total of 240 credit points, allowing students to graduate with the separate degrees of Bachelor of Economics and Bachelor of Laws. The study components for course completion are as follows.
The law component of 144 credit points is made up of:
108 credit points of compulsory core law subjects
a 6-credit-point legal theory option
a 30-credit-point law option, which includes either:

18 credit points of law options, a 6-credit-point research methodology subject, a 6-credit-point research thesis subject, or
a 6-credit-point technology law, policy and ethics (Capstone 1) subject, a 6-credit-point applied project in law, innovation and technology (Capstone 2) subject, a 6-credit-point research methodology subject, a 6-credit-point research thesis subject, and either a disruptive technologies and the law subject or a local internship.
The economics component of 96 credit points comprises:
66 credit points of core economics subjects, and
30 credit points of elective economics subjects.
Industrial training/professional practice
To practise as a lawyer in NSW, students need to successfully complete an accredited legal academic qualification (e.g. Bachelor of Laws) and an accredited course of practical legal training (PLT), which UTS offers through its PLT program.
Students enrolled in this course may complete their practical legal training by undertaking a postgraduate course in PLT, such as the Graduate Certificate in Professional Legal Practice (C11232).
Course completion requirements
| | | |
| --- | --- | --- |
| STM91017 Core subjects (Economics) | | 66cp |
| STM91052 Law stream (Honours) | | 144cp |
| CBK91208 Electives (Economics) | | 30cp |
| Total | | 240cp |
Course diagram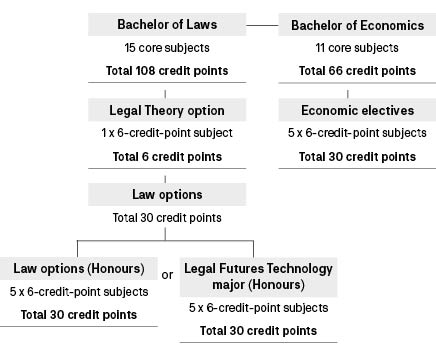 Course program
The standard program shown is for a full-time student with law options.
All options shown are law options and are to be drawn from those on offer in CBK91100.
Students wishing to study the major MAJ09444 Legal Futures and Technology need to study 76106 Technology Law, Policy and Ethics (Capstone 1) in the Autumn session of their final year and 76107 Applied Project in Law, Innovation and Technology (Capstone 2) in their final Spring session.
Autumn commencing, full time
Year 1
Autumn session
26134 Business Statistics
6cp
70102 Foundations of Law
8cp
Spring session
23567 Intermediate Microeconomics
6cp
23571 Introductory Econometrics
6cp
70103 Ethics Law and Justice
6cp
Year 2
Autumn session
23568 Intermediate Macroeconomics
6cp
70311 Torts
8cp
70114 Criminal Law and Procedure
8cp
Spring session
70211 Contracts
8cp
70616 Australian Constitutional Law
8cp
Year 3
Autumn session
70104 Civil Practice
6cp
70327 Introduction to Property and Commercial Law
6cp
23002 Market Design
6cp
Spring session
70317 Real Property
8cp
71116 Remedies
6cp
70109 Evidence
6cp
Select 6 credit points of options
6cp
Year 4
Autumn session
70617 Administrative Law
8cp
70517 Equity and Trusts
8cp
Select 6 credit points of options
6cp
Spring session
Select 18 credit points of options
18cp
Select 6 credit points from the following:
6cp
76008 Jurisprudence
6cp
76033 Animal Law and Policy in Australia
6cp
76057 Judgment and the Rule of Law
6cp
76081 Gender and Law
6cp
78039 Wickedness and Vice
6cp
76902 Law and Literature
6cp
76012 Criminology
6cp
76068 Indigenous Peoples and the Law
6cp
Year 5
Autumn session
70417 Corporate Law
8cp
70108 Public International Law
6cp
76090 Research Methodology
6cp
Spring session
76040 Research Thesis
6cp
Select 18 credit points of options
18cp
Levels of award
The Bachelor of Laws (Honours) may be awarded with first or second class honours, which does not require an additional honours year. Honours candidates must complete 76090 Research Methodology and 76040 Research Thesis within the course. The rules concerning the Bachelor of Laws (Honours) can be found in undergraduate course information.
Professional recognition
This course satisfies the requirements for admission to the Supreme Court of NSW as a lawyer, provided students complete a practical legal training program, such as the Graduate Certificate in Professional Legal Practice (C11232).
Other information
Further information is available from:
UTS Student Centre
telephone 1300 ask UTS (1300 275 887)
or +61 2 9514 1222
Ask UTS