C06119v2 Graduate Diploma in Sports Media
Award(s): Graduate Diploma in Sports Media (GradDipSportsMedia)CRICOS code: 092502E
Commonwealth supported place?: No
Load credit points: 48
Course EFTSL: 1
Location: City campus
Notes
The intake for this course has been suspended.
Current students are strongly advised to follow the typical course program because of subject availability.
Overview
Course aims
Career options
Course intended learning outcomes
Admission requirements
Course duration and attendance
Course structure
Course completion requirements
Course diagram
Course program
Other information
Overview
The Graduate Diploma in Sports Media equips students with the skills, techniques and knowledge to build careers across multiple areas of sports management, administration, journalism and communication.
The course draws from the disciplines of journalism, public relations and business to deliver invaluable learning experiences in media management, sports administration and marketing, audience development, and reporting and editing across text, video and audio.
UTS's unique arrangement with the Sydney Cricket Ground Trust delivers a range of opportunities for students across sporting codes, adding an in-house, hands-on element to every aspect of the course. Students are behind the scenes and in front of the action.
The Graduate Diploma in Sports Media is delivered by teachers from UTS's School of Communication and School of Business along with leading industry practitioners like Alex Brown, Head of Communication, Cricket Australia, who leads the teaching of this course. The emphasis is on delivering both practical and reflective learning opportunities, so that graduates are doers and thinkers, and possess both practical and strategic skills.
Course aims
Graduates of the Graduate Diploma in Sports Media:
have strong and flexible research, reporting and production skills, and a critical understanding of contemporary sports media,
possess the ability to work across platforms, channels and disciplines in digital and emerging environments,
are innovative practitioners and agile thinkers who are able to develop new ideas, solve problems and engage audiences,
strive towards industry positions armed with a sound understanding of current ethical, professional and policy debates in sport.
Career options
Career options include reporter, producer, presenter and editor across all forms of sport media and sporting bodies, agencies and related private and public organisations.
Course intended learning outcomes
This course engages with the following Course Intended Learning Outcomes (CILOs), which are tailored to the Graduate Attributes set for all graduates of the Faculty of Arts and Social Sciences:
| | |
| --- | --- |
| 1.1 | Possess an advanced understanding of the professional skills and techniques in contemporary sports media practice |
| 1.2 | Apply a high level of initiative to create content using multiple techniques and within industry accepted frameworks of accountability |
| 2.1 | Be reflexive critical thinkers and creative practitioners who are intellectually curious, imaginative and innovative |
| 2.2 | Reflect critically on the professional practice of contemporary sports media |
| 3.1 | Ability to apply professional skills responsibly and respectfully in multiple cultural and ethno-centric contexts |
| 4.1 | Integrate knowledge of Indigenous issues in professional practices and engage responsibly in communicating with and about Indigenous people and communities |
| 5.1 | Develop and maintain collaborative networks, contacts and linkages within industry bodies and across disciplines |
| 6.1 | Demonstrate skills in engagement to enable effective communication with multiple stakeholders, using traditional and emerging techniques |
| 6.2 | Harness multiple channels of communication, understanding the power and limitations of each as a tool to spread information and engage specific audiences and communities |
Key
The first digit of each CILO indicates the relevant graduate attribute:
Professional Readiness
Critical and Creative Inquiry
International and Intercultural Engagement
Indigenous Competencies
Active Citizenship
Effective Communication
Admission requirements
Applicants must have completed a UTS recognised bachelor's degree, or an equivalent or higher qualification, or submitted other evidence of general and professional qualifications that demonstrates potential to pursue graduate studies.
Applicants who have not completed a bachelor's, master's, graduate diploma or graduate certificate qualification in any field of study (or overseas equivalent) must provide:
a personal statement (approximately 500 words) explaining why they wish to study the course, and
a CV, which should include details of paid and voluntary work or other experiences (eg special interest groups) that could be relevant to the course.
If applicants do not submit these documents, their application may not be considered.
The English proficiency requirement for international students or local applicants with international qualifications is: Academic IELTS: 6.5 overall with a writing score of 6.0; or TOEFL: paper based: 550-583 overall with TWE of 4.5, internet based: 79-93 overall with a writing score of 21; or AE5: Pass; or PTE: 58-64 with a writing score of 50; or C1A/C2P: 176-184 with a writing score of 169.
Eligibility for admission does not guarantee offer of a place.
International students
Visa requirement: To obtain a student visa to study in Australia, international students must enrol full time and on campus. Australian student visa regulations also require international students studying on student visas to complete the course within the standard full-time duration. Students can extend their courses only in exceptional circumstances.
Course duration and attendance
The Graduate Diploma in Sports Media is offered on a one-year, full-time or one-and-a-half-year, part-time study.
Course structure
The course totals 48 credit points of study, made up of six core subjects.
Full-time students are required to undertake 24 credit points a session. Part-time students should undertake 8 or 16 credit points a session.
Course completion requirements
| | | |
| --- | --- | --- |
| 57214 Stakeholder Engagement | | 8cp |
| 57206 Public Relations for Sport | | 8cp |
| 57205 Digital Sports Journalism | | 8cp |
| 57222 Influence in the Digital World | | 8cp |
| 57207 Sports Media | | 8cp |
| 21923 Sport Business | | 8cp |
| Total | | 48cp |
Course diagram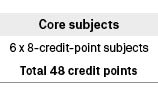 Course program
Current students are strongly advised to follow the typical course program because of subject availability. Typical course programs are shown below for full-time and part-time students, commencing in Autumn session.
Autumn commencing, full time
Year 1
Autumn session
57214 Stakeholder Engagement
8cp
57206 Public Relations for Sport
8cp
57205 Digital Sports Journalism
8cp
Spring session
57222 Influence in the Digital World
8cp
21923 Sport Business
8cp
57207 Sports Media
8cp
Autumn commencing, part time
Year 1
Autumn session
57214 Stakeholder Engagement
8cp
57205 Digital Sports Journalism
8cp
Spring session
57222 Influence in the Digital World
8cp
21923 Sport Business
8cp
Year 2
Autumn session
57207 Sports Media
8cp
57206 Public Relations for Sport
8cp
Other information
Further information is available from the UTS Student Centre on:
telephone 1300 ask UTS (1300 275 887)
or +61 2 9514 1222
Ask UTS